Blockchain just might be the biggest buzzword of this year,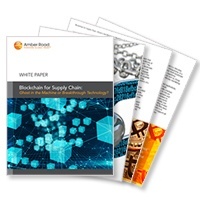 but what is it and how can we use it? While it's still a developing technology, blockchain has already shown promise for its potential application for supply chain solutions. As we continue to move forward into the digital age and engage in a digital supply chain transformation, blockchain for global trade management seems like the next logical step.
First, we need to understand the technology and its potential applications. In our new white paper Blockchain for Supply Chain: Ghost in the Machine or Breakthrough Technology?, we explore this hot topic and outline some of the ways it can be used, including:
Assisting with international trade regulatory compliance and product testing
Serving as a solution for activities like placing a purchase order, bill of lading management, or negotiating a letter of credit
Potentially being used for a combination of development, licensing, and/or transactional fees
Enhancing transactional integrity, augmenting financial auditing, and improving operational effectiveness
Whether you're fascinated by blockchain technologies or completely unfazed - discover the technology that has taken the world by storm and learn how it could transform your digital supply chain by downloading this white paper today.