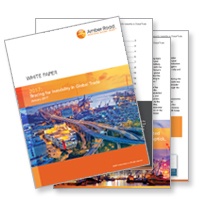 In early 2016, analysts predicted positive trends and a big trade uptick. Instead, global trade volumes fluctuated and consumer spending diminished, worldwide protectionism and de-globalization became evident and supply chain risks were enhanced, which left importers and exporters scrambling to stay on course.
As we move into 2017, global trade management executives need to brace against disrupters that have the potential to send supply chains into a tailspin. The industry must address the same imperatives — speed, quality, cost, risk and agility — yet doing it alone isn't an option. The key is investing in technology and making process changes in advance.Fewer and fewer companies are managing global trade purely by spreadsheet; research shows a majority of manufacturers and retailers have automated their supply chains, so it seems the message has been getting through.
Amber Road's new white paper, Bracing for Instability in Global Trade, talks about the downfalls of 2016 and reports the main features that need to be addressed in the upcoming year:
Manage supply chain disruptions with supply chain visibility

Quickly respond to the ebb and flow of consumer demands

Enable cross-border e-commerce in response to booming retail growth

Manage secure trading partner collaboration… and more!
Now is the time to batten down the hatches and get ready for a bumpy ride. Learn how to prepare for the global trade instability of 2017 - download the white paper today!

This post was published on January 19, 2017 and updated on January 19, 2017.