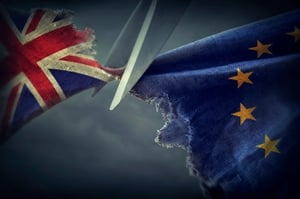 We are officially one year away (well, 367 days if you want to be exact): On March 29, 2019, the United Kingdom is scheduled to leave the European Union. While Britain is still searching for an independent customs bill that could legislate trade relations outside customs union membership, global trade professionals must prepare for the various scenarios at hand. Although we have known about this impending Brexit since June of 2016, many questions are left unanswered - are your import compliance and export compliance teams ready for the challenges ahead?
"When we leave the EU, we will also leave the EU customs union." That is the premise under which the United Kingdom, on its way out of the EU, envisions future trade relations with the European Union after Brexit. From late summer to autumn 2017, government officials have presented their first ideas on the new scenario, including the groundwork for an independent customs bill that could legislate trade relations outside customs union membership. These new documents even consider the case of a 'hard Brexit'. But are they realistic, feasible proposals or just the negotiators' pipe dream? Will Britain really be able to square the circle – leave the EU customs union and prevent a customs barrier between themselves and the mainland?
Regardless of the outcome of negotiations about a transitional period and the conclusion of a free trade agreement (FTA) between the EU and the UK, your import and export processes must be automated and able to capture the key, inevitable changes.
Amber Road has launched a new resource web page, All About Brexit, to help you become more informed and prepared for what lies ahead. At Amber Road, we are following Brexit developments as they unfold and considering the implications of what Brexit might mean for our customers. Though the next year will be a period of considerable uncertainty, we will be continuously conducting impact assessments and ensure our software runs smoothly for all our valued customers.

We are also maintaining a collection of Amber Road assets on this page for easy access. White papers, eBooks, on-demand webinars, and other materials are available for you to stay abreast of all things Brexit.
Check out our newest white paper, Customs Arrangements After Brexit, for a deeper dive into where we stand with Brexit and what the next steps are. This white paper also explores three strategic objectives that any future model of customs relations with the European Union must achieve:
Ensure frictionless trade between the EU and UK
Avoid a 'hard border' between Ireland and Northern Ireland
Establish a customs agreement between the EU and the UK as a cornerstone for building an independent international trade policy
We are looking forward to starting the conversation and discussing the impact of Brexit with you. Contact us today with any questions you may have!