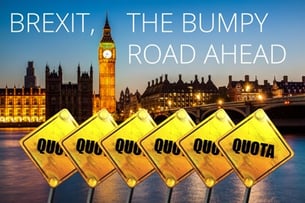 Negotiations have resumed in Brussels over Britain's exit from the European Union (EU). Since the last round of talks in July, the United Kingdom (UK) has published a series of position papers on various Brexit issues, including the future customs cooperation with the EU (Open for Business: Customs at the Forefront of the UK's New Special Partnership with the EU). There is also talk of a transition for the immediate period after Brexit. Real chances of discussing these issues are not dependent on Great Britain alone, but on what transpires at an EU October summit authorizing the start of trade negotiations.
Once bilateral trade discussions with substance eventually kick off, there are many areas of trade topics up for discussion. While the technical trade requirements of a "deep and comprehensive" trade agreement may appear relatively straightforward, politics may intrude: negotiations with the EU and other WTO members are likely to get quite complicated, further adding to the uncertainty to an already strenuous process.
Today, as we kick off our series, "Brexit, The Bumpy Road Ahead," discussing the implications of Brexit on customs and global trade implications, we look at a rather specific, some say geeky or arcane, area of trade. This complex subject requires much attention in a post Brexit world – Tariff Rate Quotas (TRQs). Who ever knew about this and thought it was an issue?
What is a Tariff Rate Quota?
Tariff Rate Quotas are quantitative restrictions while importing certain types of unfinished products, such as agricultural products. It is an exception to the normal state of affairs since they permit, during the period of validity of the measure and for a limited quantity, the total (total suspension) or partial waiver (partial suspension) of the normal duties applicable to imported goods.
The EU has two types of quotas: A) preferential tariff quotas; B) autonomous tariff quotas. Preferential tariff quotas exist under trade agreements and autonomous preferential arrangements between the EU and certain other countries. This means that a predetermined volume of goods originating in a specified country can be imported into the EU at a more favorable rate of duty. Autonomous tariff quotas can be opened for some economic sectors in order to stimulate competition inside the EU. They are normally granted to raw materials, semi-finished goods or components not available in the EU in sufficient quantities. No tariff quotas are granted for finished products.
Import licenses are required, for quota management purposes, on all agricultural products subject to such tariff quotas. Examples include cereals and cereal products, rice, sugar, oils and fats, milk products, beef and veal, sheep and goat meat, fresh fruit and vegetables, and processed fruit and vegetables. These quotas are managed on a 'first-come first-serve basis' irrespective of where the goods are imported into the EU.
Is a New EU Tariff Quota Regime Post Brexit Needed!?
The EU has struck 120+ deals outlining the quantity of products such as chicken, butter or beef it allows its trading partners to import every year. Now that the UK would be leaving the EU bloc, quotas would have to be recalculated. Since the quotas are divided up and allotted to exporters country by country, this leads to a great deal of bilateral haggling. Quotas for TRQ are set at an EU-level, and some of the quotas are more significant to the UK then others. For instance, take New Zealand sheep and goat meat. New Zealand is allowed to export up to 230,000 tons of sheep and goat meat a year to the EU. Statistics show that the UK population is a keen sheep and goat meat eater. So, if the UK population alone currently eats around 40% of that imported Kiwi sheep and goat meat, what is the consequence for the quota allowances in an EU 27? How shall the quota be distributed amongst the EU 27? Distribute the 230,000 tons amongst the EU 27? Reduce the quota by 40%? With Britain set to leave the bloc by 2019, officials have less than two years determine a new quota regime both in the EU and the UK, not only for sheep meat but for all affected products.
What are the Future TRQ Options for the EU and UK?
In an ideal world, negotiators from both UK and EU sides would spend the following months to iron-out solutions, some of which are being discussed already amongst the trade community. What are the options? Well, the first and obvious one would be to maintain the status quo by leaving all import quotas the same, an option that the EU does not favor as this would mean Britain's quota is distributed amongst the members. Thinking back of the sheep & lamb meat from New Zealand example, how would the EU make use of 40% more meat on their markets? The continental EU palate has not enough appetite for 40% more New Zealand meat, it appears. So, should the EU reduce its quotas in certain cases? Well, agreed quotas cannot be so easily changed and/or reduced. Companies across the world base their business plans and forecasts on them. In a doomsday scenario, could the EU actually be sued inside the WTO for non-compliance of quota obligations? Even if the UK does agree to take its share of the quotas post-Brexit, exporter countries might object because the arrangement is less flexible.
The second option is for Britain to negotiate to take over a portion of the E.U. quota by adjusting quota levels of sensitive products such as beef and butter, a solution most diplomats describe as complicated. The issue would be coming to an agreement that defines which products are "sensitive," and then also selecting the products deemed as "sensitive," as farmers' lobbies demand to be shielded to compete with imports.
The final, preferred option is to lower the EU quota and have Britain add a new quota itself. This option would aggravate the UK government as it is keen to forge new international trade deals after the exit, and does not want to be constrained by agreeing to quotas before their international trade negotiations begin.
Next Steps
The issue of quotas is expected to be particularly thorny as it might take years for the UK's WTO position to become clear, especially since all other member states, including all exporters, would have to be in mutual agreement. TRQs could also become a complication in UK-EU trade after Brexit if efforts to negotiate a new free trade agreement fail and bilateral trade has to fall back on WTO rules. UK access to EU TRQs (and vice versa) may have to be negotiated.
How Amber Road Can Help
At Amber Road, we are following Brexit developments in this series as they unfold and considering the implications of what Brexit might mean for our customers. Though the next two years will be a period of considerable uncertainty, we will be continuously conducting impact assessments and ensuring our software runs smoothly for all our valued customers. With our large staff of in-house trade compliance specialists around the world, Amber Road shall continue tracking changes regarding UK's exit process, changes to the customs law, and shall notify our customers immediately through our Global Knowledge updates. Amber Road also monitors all the tariff quotas of the EU.
We not only provide an industry leading digital trade compliance solution - but with a robust Total Landed Cost calculator as well. Our flexible platform allows trade professionals to collaborate across the world in optimizing financial planning and analyzing sourcing strategies to help calculate all costs incurred from design to destination.
This post was published on August 31, 2017 and updated on September 22, 2017.