When Brooke Markley was nominated to participate in our Compliance Professional Spotlight campaign, we knew immediately that she was going to be our next Compliance Champion.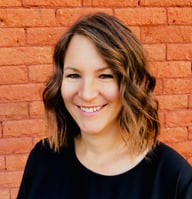 With her extensive experience as an agricultural economist and policy analyst, Brooke has spent her entire career helping others grow their agricultural businesses. In her role as the Trade Compliance Manager at Leprino Foods, Brooke helped revolutionize her company's processes with respect to compliance and accuracy. As the first person to fill this new position at Leprino, Brooke has gone above and beyond. Not only has she defined the role and navigated the difficulties of being the first with grace, she's created policies to fit Leprino's unique compliance requirements associated with the cheese and dairy nutrition products that Leprino Foods exports to more than 40 countries across the globe.

Brooke entered the industry by volunteering with the Peace Corps as an Agricultural Marketing Advisor. She worked in Guatemala for over two years after graduating from Colorado State University with a Bachelor's degree in Agricultural Business. She trained and advised farmers on how to increase production and better market their crops to generate more income. She spent the next 10 years working for the USDA in various roles in Washington, DC and Buenos Aires, Argentina and earned a Master's degree in Economics from George Mason University.

Brooke Markley has earned her spotlight as our Captain of Compliance. We at Amber Road have experienced firsthand how her contagious passion spreads like wildfire to anyone she works with. Thank you Brooke for all that you have done and continue to do in the industry!
This post was published on October 19, 2018 and updated on October 19, 2018.