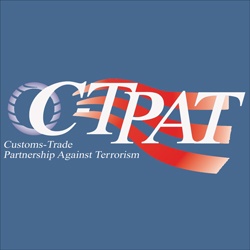 Customs and Border Protection (CBP) has long been an advocate of transparency and risk reduction in global supply chains through the Customs-Trade Partnership against Terrorism (C-TPAT), a voluntary cargo security program for global transactions. Since its inception in 2002, C-TPAT has been the basis of how the government manages and monitors cargo security.
The security threats the nation faced in 2002 are vastly different from today's security and terrorism concerns. Each day brings a new cargo security concern based on more complex supply chains, and greater risk of data breaches and cyber-attacks. Changing players in company supply chains can also impact cargo security and put companies at risk.
To address today's risk, CBP has released a more comprehensive cargo security program, with the support of the trade, to mirror the threats now prevalent in global supply chains. The newly released Minimum-Security Criteria (MSC) replace the previous Minimum-Security Guidelines (MSG), changing the landscape of the program for current members, and future volunteers to the program.
What to Expect
While the program updates will be rolled out in phases between now and 2020, there are key elements that will challenge some firms as they update their C-TPAT programs. Top of the list include:
Move to include trade compliance – the new C-TPAT logo reflects two hemispheres – one for cargo security and the other for trade compliance. The two elements together earn participants the Trusted Trader title, formerly achieved through membership in C-TPAT and the voluntary trade compliance program, the Importer Self-Assessment (ISA).
Membership in both programs is still required to earn the Trusted Trader title, and holders of that title will have increased benefits and an ability to document their return on investment (ROI) through the portal.
C-TPAT Defender – new program offering identify theft benefits, though still under development. CBP will alert members if their importer of record (IOR) number is used for an entry that does not match a profile of identifying characteristics selected by the Member to reduce liability for fraudulent IOR use.
Enhanced cyber security criteria – a new category to protect companies in their global transactions. Beyond simply protecting themselves, companies are expected to share information on cyber-attacks with the government and other business partners.
Agricultural security – a new category requiring a stringent approach to managing and eliminating contaminants in all conveyances and all modes of transport. Through this new MSC, CBP is targeting wood packaging materials (WPM) to not only be in compliance with existing regulations, but be further supported by documented and verifiable written procedures of how the company addresses these requirements, and any allowed exemption.
How to Proceed
The best first step is to have an external review of your current program, and outline where you are today and what steps to take to manage the plethora of additional requirements. The new criteria will require a more expansive approach to managing the program, and has built in requirements for the creation of multi-department teams. This means educating these new team members on a program typically reserved for trade compliance professionals.
Amber Road's Trade Advisory Practice can help! With a team of highly trained trade experts, our team has expansive experience in conducting trade validations in the USA and overseas at the supplier level. Let us help lead your team through the myriad of updated requirements to ensure a successful application, future validation or ensure your cargo moves globally with minimal exposure to the threats we now face in the current environment.
For more information, contact us at consulting@AmberRoad.com or SuzanneRicher@AmberRoad.com