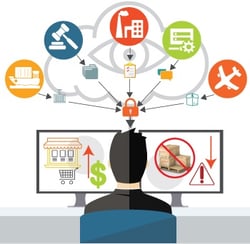 In today's technologically advanced world, savvy shippers can view their entire end-to-end supply chain through digitization. The key issue with this advancement in technology is not a lack of data, but rather the flood of information that can be difficult to sift through and even slow down shipping processes. To be agile (particularly in the holiday season) importers and exporters require the best solutions that avoid information overload - allowing them to make proactive decisions affecting shipments.
Amber Road's Solution Consultant, Vin Ramundo, spoke with Inbound Logistics about how companies can consolidate, normalize, and predictively analyze the flood of information with supply chain visibility software. Vin discusses how your company can leverage supply chain visibility solutions to turn the potential inundation of information into real-time, real-world decisions that affect your bottom-line.
Discover how your company can stay afloat and gain visibility into your supply chain's flood of information - listen now!

This post was published on December 6, 2017 and updated on June 5, 2018.