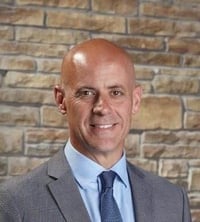 For National Compliance and Ethics week, we'd like to announce our final professional in our Compliance spotlight. This well-known colleague in the industry has risen through various levels of supply chain management to become the results-driven leader he is today. We are happy to announce Chris Bereznay, the Director of Responsible Sourcing at DICK's Sporting Goods (DSG), as our Captain of Compliance this week.
With over 20 years of experience in the retail and consumer products industry, Chris is on the leading edge of social and ethical compliance. Since starting at DICK's Sporting Goods in 2012, he has successfully executed on a number of internal initiatives including the recent formalization of a Responsible Sourcing department to consolidate related compliance functions and better align the company with industry best practices and long-term strategy.

Chris's department manages various aspects of DSG's internal compliance policies across all of the global teams. This includes oversight of the Product Safety & Regulatory Compliance Program, which ensures that products are produced, merchandised and/or recalled in accordance with state/federal regulatory requirements and company policy, and the Factory Social Compliance Program, which ensures that factories are meeting various international human/labor rights standards and health and safety requirements. The Responsible Sourcing Group does much more than just this; if you want to learn more about their efforts, check out this recent industry coverage.

Providing a foundation to his career in the retail and consumer products space, Chris earned his Bachelor's degree from Robert Morris University in Organizational Leadership, graduating Summa Cum Laude. He got his start in a distribution center management role at SUPERVALU back in 1988. Since then, he's worked in various aspects of the supply chain with frequent roles implementing technology driven solutions. Chris finds his passion in helping companies develop strategic practices to maintain regulatory and corporate compliance standards. Chris is a key stakeholder in various industry organizations. He often shares his knowledge and is well known for his dedication and results focused attitude. Chris is always happy to benchmark and engage with industry colleagues. Feel free to reach out to him via LinkedIn, here: https://www.linkedin.com/in/chrisbereznay/
We are excited that DICK's Sporting Goods and Chris are part of the Amber Road community. We're sure there are many great things yet to come.
This post was published on November 8, 2018 and updated on November 8, 2018.