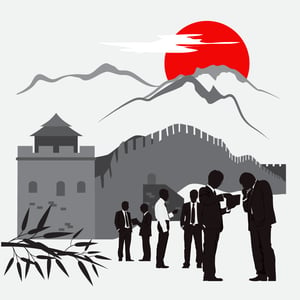 It's incredible how many people who are not in the supply chain business know a whole lot about global trade today – but not for the right reasons. The ongoing trade wars between the United States and China have taken center stage in every media outlet around the world, and organizations buying and selling goods globally are feeling the effects. However, recent dramatic regulatory changes in China have been dwarfed by the tit-for-tit tariff talk. These changes have equal importance and impact on global trade, yet most shippers aren't tuned-in quite yet.
Now, and possibly more than ever, it is critical to be tuned into the geo-political topics that are impacting the direction of global trade and the implementation of punitive and retaliatory tariffs. Companies should consider how to react to these developments and brace for more changes that might come down the road, especially when doing business with the world's second largest economy – China.
The Chinese government has not been sitting back and simply playing tariff chess with President Trump, there is a lot more going on behind the wall than you think. In March 2018, the 13th National People's Congress of China formally approved the State Council's proposal to implement a massive reformation of many Chinese governmental agencies, with special emphasis on those managing the operations around import and export. The restructuring plan simplified and/or integrated many agencies in an effort to improve and streamline operations. Ultimately, the government believes it will bolster the economic environment, including customs clearance, market-access measures on product quality, and the investment environment of foreign-invested enterprises.
China General Administration of Customs
Following this vote, the China General Administration of Customs (GAC) announced the revision of 71 regulations and abolition of two regulations related to customs supervision. This translates into a massive overhaul of import and export activities, as well as trade compliance programs in order to comply. Broadly, these are some of the modifications affecting shippers in and out of China:
China and Inspection Quarantine (CIQ)

and China Customs agencies are integrated: With this change, the responsibilities for the physical inspection of goods by CIQ are totally unified under China Customs supervision. This means Customs is responsible for the admittance measures and taxation of all imports and exports.

New Single Window

with one Declaration for both Customs and CIQ: Shippers can use a "single window" portal to submit their declaration and physical inspection data, creating greater efficiency at the port. But these new submission requirements need to be implemented into current shipment processes and systems.

New 13-digit Commodity Code

by adding 3-digit CIQ Code to HS Code: Beginning on August 1, 2018, the China Customs Commodity HS Code has been changed from the original 10-digit HS code to the new 13-digit HS code. The first 8-digits are the Commodity HS code of "Import and Export Tariff of the People's Republic of China", digits 9 and 10 are Customs supervisory additional numbers, and 11 to 13 are additional numbers for inspection and quarantine. This change reflects the merging of functions between China Customs and CIQ.
Additional

20+ declaration parameters changes

: Additional customs and quarantine declaration requirements will compel enterprises to have a stronger knowledge of customs and trade compliance standards for export before and after clearance.
Golden Gate II Process and System for Processing Trade: With the planned implementation of the Golden Gate II system by the end of 2018, China Customs is revamping the supervision of Processing Trade down to the part number level with expanded Handbook reconciliation options. Companies that engage in Processing Trade in and outside of bonded zones should plan for upgrades to the Process and China Trade Management system to meet the much more rigorous compliance requirements from Golden Gate II.
Changes in

AEO Certification and Self-compliance Programs

: Since 2016, about 3,000 enterprises moving goods across China's borders have participated in the new Advanced Certified Enterprises (ACE) program, similar to the AEO (Authorized Economic Operator) program in other countries. Certified companies can enjoy as many as 49 facilitation measures provided by China Customs and other government departments, speeding their shipments through ports with less scrutiny. Compared to the previous scheme, one of the most significant changes in the new regulation is the further interpretation and differentiation between the different creditability rankings. The average inspection rate of ACE enterprises is about 50% less than other shippers. The amendments also increase the voluntary disclosure penalty allowance from 5K to 50K RMB before triggering a downgrade of an enterprise's credibility assessment.
Conducting international trade in China has always had a high level of difficulty and complexity, given the varying regulations between regions. In our current trade environment, doing business with China is—and will probably continue to be—an unsettled relationship.
Amber Road's China Trade Management solution enables companies to create a window in the wall, helping automate import and export processes for China operations. This allows companies to meet China's compliance requirements for General and Processing Trade, reduce costs and improve supply chain efficiencies. It provides timely regulatory updates to ensure uninterrupted import and export operations, as China makes frequent regulatory changes like those mentioned here and those yet to come. As part of a comprehensive Global Trade Management (GTM) platform, companies can improve supply chain execution efficiencies, minimize risk, and increase agility to respond to changes.
While the trade conflicts between China and the US are negatively impacting supply chains already, companies in both countries who import/export goods are subject to more than just tariff increases. Additional or new documentation, data, and processes can throw a monkey wrench into the finest-running supply stream at any moment. There is a lot going on behind the Great Wall, now is the time to be making modifications to your organization's operation.
Check out the journey of this Fortune 500 company took to optimize their supply chain collaboration operations in China which ultimately shortened delivery times, improved workforce efficiency, and reduced compliance risks.
This post was published on August 23, 2018 and updated on August 23, 2018.