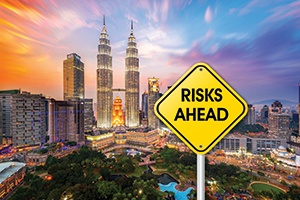 2017 might go down in the record books as the year of changing trade regulations. Tax and duty, preferential trade, import/export controls, and other complex laws are all under the regulators microscope in countries around the world. Adding another layer of risk, organization like the Financial Action Task Force (FATF), UK National Crime Agency (NCA) and others are working to ensure that businesses do not engage in bribery as a means to obtain or retain business. Numerous countries around the world have passed anti-corruption laws, such as the US Foreign Corrupt Practices Act (FCPA), the UK Bribery Act, the Canadian Corruption of Foreign Public Officials Act (CFPOA), Chinese Anti-Corruption Laws, and more. Some of these laws does not distinguish between small and large bribery payments, thus prohibiting any facilitation payments.

Many organizations are already getting hit with huge fines for breaches in anti-money laundering rules in the United Kingdom, Hong Kong and Germany. The first step toward compliance with these regulations is to identify those individuals that may be part of your company's operation.

Today, Amber Road announced the addition of comprehensive Politically Exposed Persons (PEPs) lists to the Global Knowledge® database. In addition to being the industry's most wide-ranging database of government regulations and international business rules, Amber Road's Global Knowledge® helps automate the restricted party screening (RPS) process to quickly screen customers, suppliers, and other trading partners against 570+ restricted parties lists from government institutions worldwide.

In an era of heightened security, determining whether individuals, companies or organizations are restricted from conducting trade is essential. Identifying partners within business processes with high reputational risk is not straightforward, with constant shifts in politics and leadership around the globe. Amber Road's database includes thousands of entities from more than 220 lists under PEP alone (covering more than 120 countries), which are captured using official government sources only. Amber Road ensures companies are utilizing the most current restricted party screening lists, which reduces global trade risks and improves process efficiencies. To learn more, visit our Press Release.