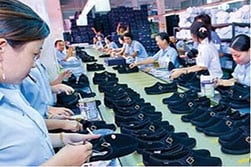 Supply chains are becoming highly sophisticated and vital to attaining a competitive advantage for many companies. But as manufacturers look to expand across borders, the global nature also makes them increasingly vulnerable to a variety of risks.
In early 2014, the footwear industry was faced with some of its biggest challenges to date from sourcing and social compliance to product safety, customs and other related issues. Footwear sourcing has become the height of trends, as brands and retailers shift around the globe on a quest to lower sourcing, material and production costs. As a result, the supply chain becomes increasingly complex, impacting social compliance and factory performance standards down the line - uncovering the need for risk management solutions.
For years, brands and retailers have sourced to China simply because the rewards are so well known. While sourcing in China offers plenty of opportunities, product manufacturing in China allows for brands and retailers to produce a higher volume at a more reasonable cost. Despite the rising cost of manufacturing in recent years, China is still often seen as the most cost-effective location for domestic retailers and manufacturers to source goods. But don't be so quick to overlook the gray area in this matter, as there are many factors that also make sourcing in China an issue.
Get the free resource - Why Multi-Tier Supplier Collaboration Is More Important Now
In late June 2014, Footwear Distributors and Retailers of America (FDRA) released a Factory Survey Analysis that highlights how factories in China are managing the various challenges facing the footwear industry. Although the survey reveals a strong sense of optimism amongst factories' business outlook, it also indicates that they are facing challenges related to seasonal production fluctuations, raw material costs and shrinking labor pools.1 As recent events at footwear factories have shown, understanding the complex challenges both workers and factory owners face is vitally important to the overall success of the industry. FDRA's Factory Survey has shown for several years now that failing to meet wage and benefit requirements on a consistent basis is a rather common challenge amongst footwear factories.1
In order to mitigate these risks, as well as identify needs and issues within the supply chain, there is a greater need for collaboration and visibility between all of these moving parts. When it comes to your supply chain, everything needs to be transparent, end to end. With the right technology solution and implementation, your supply chain can thrive with reduced risk, greater operational efficiency and profitability, and overall improvement ─ all while avoiding those profit and brand damaging issues that can arise from not having holistic visibility.
For more information on the Factory Survey Analysis, check out this article.

This post was published on October 16, 2017 and updated on March 29, 2018.