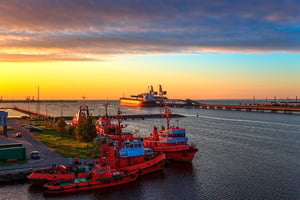 What are your supply chain partners doing right now? What will they be up to six months from now? On the other hand, do your partners know what you're doing right now?
Today's global supply chains face pressures on all fronts: numerous trading partners add to the existing challenges of longer lead times, fluctuating trade regulations, and international logistics.
That makes internal communication, collaboration, and centralized data absolutely critical.
Companies and their trading partners need to create a technology network to connect the dots and gain visibility into the entire design to delivery process. Parties at every level in the supply chain must work closely to ensure cost-effective and compliant international shipments. The exchange of product, compliance, and logistics information on the same platform allows you to get on the same page as your supply chain partners.
Nathan Pieri, Chief Product Officer at Amber Road, will explore the strategy behind this crucial supply chain framework at the Gartner Supply Chain Executive Conference in Phoenix, AZ next week. Learn how achieving a truly seamless supply chain – including partner and supplier networks – can improve product innovation, ensure accurate landed cost, reduce risk, achieve significant duty savings, and accelerate time-to-market.
Nathan's session at the Gartner Supply Chain Executive Conference will take place on Tuesday, May 17th, at 3:15 PM. If you aren't able to attend the conference, learn more about how collaboration reduces your global supplier risks in this white paper:
This post was published on May 13, 2016 and updated on September 8, 2017.