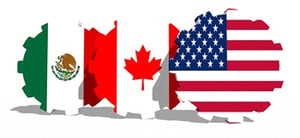 I hope you got your holiday shopping done early this year, because prices could be rising soon! With the North American Free Trade Agreement (NAFTA) going through rounds of negotiations, global trade professionals can only watch and wait to see what happens. The threat of a NAFTA withdrawal is real and could have revolutionary consequences - disrupting supply chains that link their domestic imports and manufacturing operations with suppliers in Canada and Mexico. Are we going back in time to the days where we strictly manufactured and sourced goods locally? What exactly would the consequences be? Could the new NAFTA change global sourcing forever?
Where Do We Stand?
The fifth round of negotiations just concluded in Mexico City and, although progress was made in various chapters, there is still a lot of work to be done. On November 29, the Mexican Minister of Economy, Ildefonso Guajardo, left a meeting with Trump's team in Washington saying, "I was clear that the domestic content [proposal] is something that is not viable at this point." He also stated that Mexico will eventually offer a counter-proposal on automotive rules of origin, but did not specify a timetable.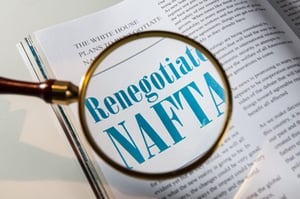 One thing remains clear throughout this entire process - Canada and Mexico are not willing to agree to the United States' sunset provision that would require the three countries to re-affirm their commitment to NAFTA every five years. One Canadian official exclaimed, "On the controversial proposals, we cannot really negotiate as there seems to be little room to do so and little logic to the proposals." Foreign Affairs Minister Chrystia Freeland chimed in, "These are proposals that we simply cannot agree to...what we've done in some of those areas is ask for a better understanding of those proposals. We really feel that a fact-based approach is the way to get a good result."
A sixth round of negotiations is scheduled for Washington in December, but Trump's team still seems to be threatening to cancel NAFTA entirely. So...what happens then?
A New World of Global Sourcing
In a perfect world, negotiators from these three countries would have already found a way to compromise and agree on a fair deal. But the world is far from perfect and no one is willing to budge on certain sticky subjects. Little progress has been made on the major points of contention such as rules of origin, labor standards, dispute settlement resolution, customs cooperation and enforcement, and architecture of the text specific to industries. With time running out and certain talks stalling, many are left wondering: what if Trump really does withdraw from NAFTA?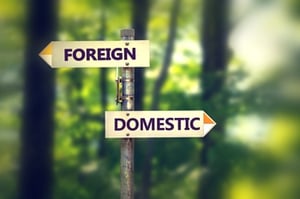 The current NAFTA text provides guidelines for a country desiring to withdraw from the agreement "six months after it has provided written notice of withdrawal to the other parties." Assuming that these threats become real, these three countries' economies and sourcing strategies would undergo massive changes.
Given the magnitude of their economies, pulling out of NAFTA will certainly displace production and jobs. Companies would have to decide whether they would want to start manufacturing their goods locally or sourcing overseas, both of which will come with a price - and a hefty one at that! "The shift from one sourcing country to another won't be a long-term answer, as almost all current sourcing countries are getting more and more expensive," according to a Sourcing Journal report.
So what would happen if the US abandoned NAFTA? In a nutshell: Prices would go up, imports and exports would drop, spending would drop, foreign investment would drop, and unemployment would rise. There would also be an immediate impact on supplier relationships and inevitably create supply chain risk for many companies. Sounds bad doesn't it? There has to be a silver lining somewhere though, right? Well, luckily this is what we would call the worst case scenario. So let's dive into a more positive possible outcome instead!
A Better NAFTA
No matter what side you're on, most people can agree that NAFTA can be fine-tuned and modified in certain areas to benefit all parties. In our recent 2017 Trade Trends Report with AAEI, we explain how a change in the de minimis amount for Canada and Mexico would be a boon for US companies, following the increase in the US de minimis rate in 2016. Gary Baracco claims, "Another positive change would be the inclusion of e-commerce or digital trade provisions in the renegotiated NAFTA. The internet was in its infancy when the trade deal was originally signed, so the inclusion of e-commerce is one of the few items all parties seem to agree on."
According to Elaine Bernard, the Executive Director of the Labor and Worklife Program at Harvard, NAFTA could also do a better job at harmonizing labor standards and processes. She proposes that a change should be implemented to regulate the process rather than the product - something foreign to current NAFTA standards.
"Regulating product means that if you grow a tomato and use DDT or other chemicals that are banned in this country, we cannot prohibit the import of that tomato. We can simply inspect it at the border to assure that any DDT residue is within legal limits, but we cannot regulate process, that is, how it is grown. Ultimately, this undermines our domestic regulation."
A re-negotiated NAFTA could be the best outcome from these negotiations, depending on the changes to regulations and labor/environmental standards. However, any change will still greatly impact the way companies source products and conduct global trade. It's time to be proactive and prepare for a new world of global trade management.
Preparing For Change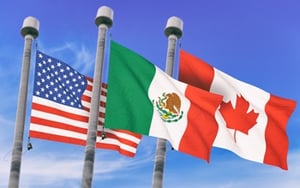 No one can predict exactly what will happen, but one thing is certain - you must be prepared. The death of the Trans-Pacific Partnership (TPP) should be a lesson to all executives and professionals. NAFTA could be destined for the history books, a demise that would have a tremendous impact on sourcing challenges and global supply chains, or it could be renegotiated and serve as a blueprint for future international trade deals.
Sourcing professionals already have quite a bit to deal with in today's ever-changing global trade environment - trade compliance regulations, market competition, managing supply chain risks, meeting consumer demands, increasing sourcing costs...the list goes on and on. The future of NAFTA is a major concern for everyone and we should all be equipped for whatever happens.
Amber Road's Global Sourcing software will capture these far-reaching changes and help organizations adjust their supplier onboarding and sourcing processes. Our solution automates and centralizes your product, cost, and supplier information, ultimately leading to increased supply chain performance. This won't be easy for anyone, but our solution can certainly make it easier.
But managing the sourcing side isn't enough. Supply chain leaders need to manage Free Trade Agreements (FTA) as well. As part of a broad and deep GTM platform, Amber Road's Free Trade Agreement Management solution includes over 120 trade preference agreements allowing for FTA identification and qualification. Our solution is powered by the industry-leading Global Knowledge® database of global trade content, which contains the rules of origin, product classifications, and duties and taxes for the major trade agreements. Our large staff of in-house trade specialists will be able to quickly catch and implement all the impacts to NAFTA changes and flag them in the system to help keep your supply chain safe. Utilizing Amber Road's solution can help open up new markets for companies by simplifying the compliance and qualification processes.
So will NAFTA change global sourcing forever? Maybe. Time will only tell. But having the right solution in place will better protect your supply chain and help your organization remain compliant with the changes to come.
You must really be feeling the holiday spirit after all this, huh? Well here's a gift from us to keep you better informed!
This post was published on December 4, 2017 and updated on December 4, 2017.