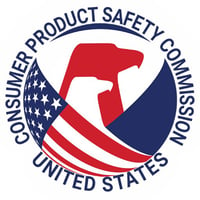 Most of us are familiar with the CPSC (Consumer Product Safety Commission) and the work they do to protect consumers. Recently we've heard a great deal about safety recalls for air bags, mobile phones and hover boards – all of these with life-threatening concerns for consumers. As manufacturers and importers, it is your responsibility to ensure every product meets the most current standards for product testing; an often difficult task given the mounting additions to the current federal and state regulations.
According to a report released in January 2017 by non-profit group Kids in Danger (KID), CPSC recalled more products in 2016 since 2001 (with the exception of 2004). This reflects the increase in regulatory enforcement for U.S. government agencies abuzz in the import/export community today. In February, the safety standards in ASTM F963 for Toys and Section 106 of the Consumer Product Safety Information Act (CPSIA) were updated with an effective date of April 30, 2017 for compliance to these changes.
But last week, the Commission relaxed the updated rule on projectile toys – like Nerf and other shooting toys. The CPSC staff will exercise its "enforcement discretion with respect to ASTM F963-16's §4.21.2.3 and will apply kinetic energy density (KED) requirements only to projectiles with energies greater than 0.08J."1
The amount of product safety regulations (national, federal, and international) has grown exponentially, and governmental agencies are paying close attention to the trade. Companies have indicated that keeping up with safety regulations is one of the biggest challenges, and ensuring compliance with multiple regulations drives up costs. The alignment of the ASTM toy standards with the EU regulations can help reduce the duplication of effort and testing.
Ultimately, the importer of record is responsible for all product testing and certificate generation/submission. Having a technology platform that unifies product, supplier and order data into a single system can alleviate some of the burdens. Learn more about Amber Road's product testing solution here.
1 https://www.cpsc.gov/s3fs-public/TIA_projectile%20toys_let_3.31.17.pdf
This post was published on April 13, 2017 and updated on April 13, 2017.