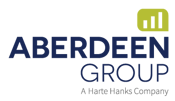 Today's Chief Supply Chain Officer (CSCO) is beset by pressures on all fronts, not the least of which is how to address new B2B and B2C direct-to-consumer flows. Aberdeen Group recently introduced a Prescriptive Model for Optimization that both defines and describes what leading companies are doing to reengineer inventory and fulfillment flows from source to end consumer. This framework requires a move from current state descriptive analytics to analytical optimization that applies prescriptive and predictive intelligence during both planning and execution phases.
Aberdeen will be publishing a series of reports and interconnected blogs to help the office of the CSCO (see sidebar). This blog is an overview of the first report in the series, Strategic Sourcing and Segmentation: Prescriptive Control Tower Approach.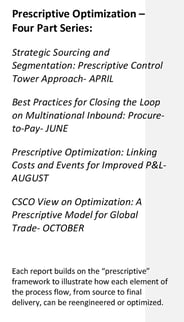 For each report we will apply a Prescriptive Model of Optimization, which involves 3 major analytical modeling phases:
Descriptive, which uses business intelligence and data mining to ask: "What has happened?"
Predictive, which uses statistical models and forecasts to ask: "What could happen?"
Prescriptive, which uses optimization and embedded decision rules and simulation to ask: "What should we do?"
Each report will link back to the prior report in the series and leave the reader with a keener understanding of the tradeoffs in cost and service available for each customer, product, and segment of their end-to-end supply chain.
Best-in-Class Capabilities in Strategic Sourcing – The Best-in-Class, those ranked in the top 20% of surveyed companies, have advantages in the following key areas compared to all other companies:
Total Spend Under Management – 89% of total spend under management vs. 51% for All Others. 35% of the Best-in-Class can segment cost and service for their products and customers vs. only 12% of All Others
Organizational Supply Chain Intelligence –Through organization models, comparisons, prescriptive optimization, and simulation the Best-in-Class turn the volume of raw data mined in the descriptive and predictive stages into business and global supply chain intelligence and are able to dynamically interact with suppliers and trading partners
Prescriptive Event-Driven Customer and Product Synchronization –Their sourcing strategy involves a segmented, control tower approach, a high degree of operational readiness, and "prescriptive" event-driven customer and product synchronization of end-to-end activities; internationally, domestically, and combined. The Best-in-Class are 3.5 times more likely to model and optimize by product, source, and customer than low performers
One key goal of strategic inbound or sourcing optimization is tying costs/rate and events together. This allows companies to segment costs and activities across each combination of customer, product, and logistics flow. These and other distinct findings are embodied in the full report. Each subsequent report will also provide you with best practices and highlight successful approaches that give the Best-in-Class an advantage over all other companies.
How does your company compare? Join in the conversation as we continue with the series and download the report today!

Bob Heaney, research director of supply chain management at Aberdeen Group, is a seasoned professional with over 25 years of distinguished leadership experience in research, analysis, and advisory roles in Supply Chain Engineering. Bob's coverage area within Aberdeen includes various elements of Supply Chain Execution (Transportation Management, Warehouse Management, Distributed Order Management and Supply Chain Visibility).