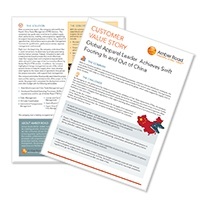 Tariffs...protectionism...trade wars?! While trading internationally with China has always been a difficult task, recent headlines make it seem like an impossible endeavor! But that is far from the truth. It is important for companies engaging in import and export activities in China to take into account all components of the supply chain and be proactive in an ever-changing environment. This global apparel leader did just that and enhanced their global supply chain capabilities as a result!
Amber Road's customer value story, Global Apparel Leader Achieves Swift Footing In and Out of China, details the journey this Fortune 500 company took to implement a swift process for their supply chain operations in China. Realizing that their manual processes were not going to enable its growing China business, they began searching for a comprehensive solution. By implementing Amber Road's China Trade Management (CTM) solution, they were able to:
Shorten delivery time and expand omni-channel distribution
Minimize compliance risks and leverage China Customs trade reform measures
Increase working efficiency with the same level of resources
While there is uncertainty with US-China relations moving forward, the opportunity to capture even a small share of China's huge market can be worth the risk. So what exactly are you waiting for? Download a copy of this customer value story to learn how you can meet China compliance requirements and take advantage of the benefits that come with it!
This post was published on April 23, 2018 and updated on April 23, 2018.