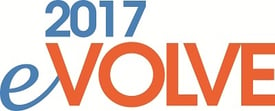 Don't miss Amber Road's highly anticipated eVOLVE 2017 User Conference! eVOLVE will take place May 10-12, 2017 at the Gaylord National Resort & Convention Center just outside of Washington, DC. Amber Road customers can look forward to user-driven case studies, product updates, training courses and thought leadership from industry leaders.
For a limited time, customers who register before Friday, January 27th can take advantage of our Early Bird pricing special. Early Bird registrants will receive the following perks:
20% discount off of the standard conference fee—this means you pay $640 opposed to $800 after our Early Bird deadline!
Free 3-month trial subscription to our Global Trade Academy e-Learning Courses with full access to the entire library of global trade courses.
Unbeatable group rates when you register along with a colleague.
The eVOLVE agenda was designed with all of our customers in mind—with 65 sessions and 34 product demos spanning across five solution area tracks. As an exclusive offering for Amber Road's customers, eVOLVE is your prime opportunity to discover the latest developments in our GTM solutions, provide input on product evolution, network with your peers and learn to maximize your investment with Amber Road!
eVOLVE provides a unique, in-action view to our solutions through case studies presented by an array of our customers, including GE, Abercrombie & Fitch, Regal Beloit, Caleres and TE Connectivity.
eVOLVE's Early Bird deadline is quickly approaching and you certainly don't want to miss out - make sure you register before Friday, January 27th!

This post was published on January 24, 2017 and updated on January 24, 2017.