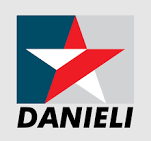 In an era of heightened security, determining whether individuals, companies or organizations are restricted from conducting trade is essential. Exporters are responsible for ensuring that they are compliant with government regulations and that their goods are not being sold to undesirable entities.
To safeguard against these risks, Danieli & C. Officine Meccaniche SpA has selected Amber Road's Restricted Party Screening solution to support the company's enterprise-wide global trade compliance initiative.
Danieli & C. Officine Meccaniche SpA is the parent company of Danieli Group, which ranks among the three largest suppliers of equipment and plants for the metals industry worldwide. Headquartered in North-Eastern Italy, Danieli Group includes more than 40 subsidiaries globally, with workshops and implementation projects across the world.
Seeking more comprehensive coverage to support current operations and future growth, Danieli decided to further enhance its compliance controls by implementing a state-of-the-art solution. The company chose Amber Road's Restricted Party Screening solution, part of the comprehensive Export On-Demand solution that also includes product classification, export controls and export license management as standard modules.
"Besides the fact that our company attaches particular importance to corporate responsibility issues, global compliance is more and more becoming a key factor for success in our market," said Gianluca Buoro, compliance manager of Danieli Group. "In Amber Road we found a partner that fulfills our global requirements for optimization and automation of sanction and embargo compliance processes. That, together with its worldwide reach, ability to implement a solution in just weeks and well-defined path for expansion into other compliance areas, made Amber Road the clear choice for Danieli."
Additional factors that moved the needle in Amber Road's favor included its positive references in Italy and its Europe-based hosting services.
Amber Road will implement the Restricted Party Screening solution in several phases, aiming to eventually cover Danieli's entire worldwide operations. The solution will be hosted in Amber Road's high-security facilities in Frankfurt, a new facility opened in September 2015, to meet the specific needs of European companies for compliance with EU data protection and privacy regulations.
"We are very happy to have one of Italy's flagship companies using our Export On-Demand solution to comply not only with Italian laws but also global trade regulations," said Thomas Kofler, director of sales, Italy, for Amber Road. "In recognizing the importance of global trade compliance in the worldwide metals industry, Danieli Group is fostering further development and growth. We look forward to continuing to partner with Danieli, to enhance its capabilities in compliance and possibly also in other areas of global trade management."
To learn more, read the full press release here or download our white paper, Six Best Practices to Improve Compliance with a Restricted Party Screening Solution.
This post was published on May 24, 2016 and updated on May 24, 2016.