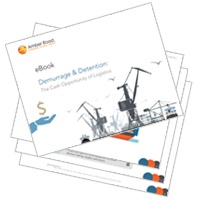 "Free time" is often viewed as a luxury that we as human beings look as a time of relaxation, however in the world of global trade it costs about $35 million dollars in demurrage and detention, which are completely avoidable and preventable fees. These fees result in delayed deliveries and payments, lost sales, and lack of product availability for organizations facing congested ports and poor data analytics to help avoid these fines.
If your company faces constant demurrage and detention fees, the exploration and implementation of an automated technology will reduce these fees by providing early alerts to potential risks, visibility in your supply chain, more accurate calculated rates and quotes. Below are some steps your organization can take to reduce these costs:
Analyze the process to further minimize fees
Clarify relations and responsibilities to optimize the network
Automate the process throughout the entire supply chain
Streamline the process, then refine for added cost savings
Finding the right global trade and transportation management solution that fits your organization is no easy task. But the benefits will outweigh the avoidable fines your supply chain faces every day. With the right solution in place this will help with maximizing efficiency, reduce transportation costs, and improve shipping times.
Download our latest e-book today and learn how your organization can start avoiding these fees and start maximizing your ROI.

This post was published on March 24, 2017 and updated on January 16, 2018.