Expanding supplier bases and stretching out supply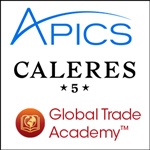 chains have increased the pressure to roll-out a supply network with leading supplier management and global sourcing tools.
This is critical for product innovation, product quality management, facility compliance, and reduced order cycles and cost – with just a single global transaction. In short, automate all the way upstream to the source.
Join Amber Road's Global Trade Academy and Caleres (formerly Brown Shoe Company) for our upcoming webinar, Dialing Into the Supplier Network on Thursday, February 9th as they discuss the challenges of supplier enablement, still very much on the mind of many procurement organizations. Presenters will include:
Jeffrey A. Kuhn, Vice President, Supply Chain Planning & Operations at Caleres, Inc.
Gary M. Barraco, Director, Global Product Marketing at Amber Road
Jenny Roman, Solutions Manager at Amber Road

Join us to learn how many leading companies today are leveraging supplier networks to accelerate spend and streamline the entire source-to-pay business process.