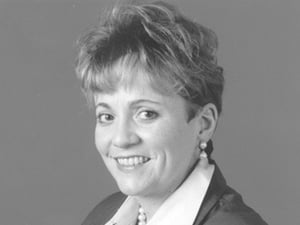 Duty Drawback represents one of Customs' most long-standing benefits to firms, as it offers companies a refund of up to 99% of taxes, duties and fees paid when imported merchandise is exported or destroyed within certain timeframes. The concept is simple – match your import entry documents with the corresponding export docs, file for expedited payment processing, and voila! Money will flow into your bank account.
As simple as it seems, drawback regulations are among the most complicated, and it is estimated that $2.8 billion dollars is left unclaimed by companies eligible for refund. Enter Amber Road's Global Trade Academy – after attending the unique 3-day Duty Drawback Certificate Program, attendees have succeeded in securing incredible refunds for their firms.
One great success story is that of Tammy Anderson, Logistics Supervisor with an electronics firm, who in less than one year was able to secure $1.3 million dollars from her drawback program.
Tammy, thanks for joining us and sharing your story; how did you first get started in logistics?
Thanks for having me join you today. I've been working in logistics for over 15 years, while studying nights to complete my master's degree. With that under my belt, I continued to seek out courses that expanded my knowledge of global supply chains. One of the first courses I took was the Global Trade Academy's Classification Certification Specialist Program (CCLS ™), where I gained expertise in mastering the classification of product. This started my quest to expand further into global logistics and better understand how to improve our supply chain efficiency.
How did the CCLS ™ certification help you?
While I mostly specialized in logistics, freight movement, and freight negotiation, understanding how the classification code impacted imports and exports was crucial. I was able to audit some of our classification codes and ensure we are paying the correct amount of duty to CBP. And of course, it's a major tool for us to calculate landed cost, so it was a major plus to build expertise in this area.
What caught your interest in attending GTA's Duty Drawback Certification Program?
As my knowledge of global trade grew, I started to look at the number of shipments exported that originally came from our imports. I was aware of the concept of drawback, though I didn't have any expertise in this area and was unsure how to even start a drawback program.
The course was great – very well-structured – and it rolled out a complete plan of action, showing us how to start and maintain a program, apply for accelerated payment benefits, and better yet, how to build a strong paperwork trail to protect us in any future Customs inquiry.
How did you go about setting up your drawback program?
Once I completed the Drawback Specialist course, I started researching our imports and exports, and the type of records we had available. Really, I just put into place what we learned in the course – I applied for accelerated payment status, and looked at filing drawback over the previous three years' worth of shipments, which is about how far back you can go.
And your story has a great return on investment for your company!
Yes, I'm excited to share that, to date, we have saved $1.3 million dollars through our drawback program. We've filed two claims so far and the impact on our company's bottom line has been unimaginable. We had no idea a 3-day drawback program would launch such a successful refund program, and for import/export shipments we were already doing, but without this benefit. It's been a great win for our firm.

This post was published on June 14, 2017 and updated on June 14, 2017.