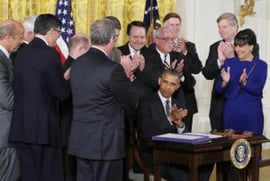 The 40-year old Generalized System of Preferences (GSP) program has helped many developing countries get a foothold in the US retail market with special duty-free status on imported goods. Established by the Trade Act of 1974, GSP promotes economic development by eliminating duties on up to 5,000 types of products when imported from one of 122 designated beneficiary countries and territories.
Last week, the Office of the US Trade Representative (USTR) announced the outcome of the Administration's annual product review, but not everyone is satisfied with the results since many trade and lobbying organizations petitioned for more preferences that would free up global trade at a time when US imports are down and retail sales are vacillating.
This review adds new duty-free status for travel goods (including luggage, backpacks, handbags, and wallets) for Least Developed Beneficiary Developing Countries (LDBDCs) and African Growth and Opportunity Act (AGOA) countries. It falls short by removing products from specific GSP countries where the Administration feels the country is already competitive and doesn't need the tariff preference. The biggest impact is on the anticipated inclusion of travel goods (luggage, bags, wallets, etc.) from all GSP-eligible countries. Rather, President Obama utilized his recently-granted authority to limit the preference and not include such countries as Sri Lanka, Pakistan, Indonesia, Thailand, and the Philippines as hoped by trade groups.
In a message broadcast on June 30th, American Apparel and Footwear Association (AAFA) President and CEO Rick Helfenbein responded to the decision: "We are deeply disappointed with President Obama's decision. If President Obama had granted benefits to travel goods from all GSP-eligible countries, we estimate the industry would have received benefits that could exceed $75 million dollars during the first year alone. These benefits translate into jobs for our U.S. workers, value for our U.S. customers, and improvements for our global supply chains."
These regulatory changes make global trade even more complex. Furthermore, ensuring goods qualify (or must be excluded) for preferential trade is an overwhelming task for importers and exporters. Amber Road's Duty Management solutions help companies simplify and automate the qualification and administration process of preferential trade programs along with managing Foreign-Trade Zones. Learn more by watching this video.
Interested in learning how to best implement a duty management strategy? Download this American Shipper report, A Duty to Save: Avoiding Missed Opportunities in Duty Management.