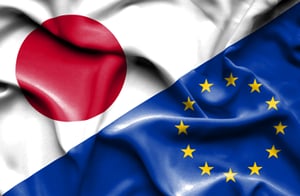 Japan and the EU account for more than a third of the world's GDP, so the upcoming EU-Japan Economic Partnership Agreement (EPA) has businesses from both continents evaluating the impact of this landmark agreement as it nears its negotiation and launch. The impact on tariff and non-tariff measures alike are substantial and provide opportunities for companies of all sizes.
Join Amber Road's Global Trade Academy for a webinar tomorrow, Tuesday, September 26, at 2PM EST, to explore some of the agreement's key aspects, with contributions from Suzanne Richer, Director of Amber Road's Global Trade Academy, and Nick Boland, Director of Solutions Consulting EMEA.

Key topics will include:
An introduction to the EPA

Rules of origin examples

Regulatory coherence – what it is and why it's important

Dispute resolution – how the process is managed

The impact on companies – including provisions for SME's and e-commerce

Environmental protection
Join us to explore the EPA and what this important free trade agreement could mean for your business - register today!
This post was published on September 25, 2017 and updated on September 25, 2017.