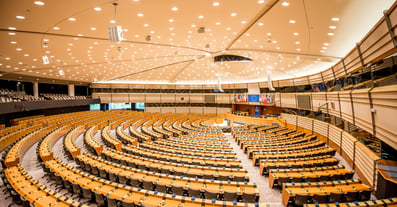 It took 20 years of negotiations to bring about the free trade agreement between the European Union and the South American Mercosur countries.
The Mercosur countries (Brazil, Argentina, Uruguay, and Paraguay) and the EU signed a comprehensive draft trade agreement on Friday 28 June 2019. The agreement, negotiated by the European Commission, has yet to be approved by the 28 Member States and then by the European Union Parliament.
Jean-Claude Juncker, President of the European Commission, expressed his satisfaction with what he calls a "truly historic" agreement at the G20 summit in Japan. EU leaders thus came together, both for the photo and on the international scene, to better counter the surge in protectionism the world has seen in the past several months.
Some Facts and Figures
Nearly 770 million consumers will be affected by this agreement. The EU and Mercosur together account for one quarter of the entire world's GDP, or €18 trillion.
The two blocs traded nearly €88 billion worth of goods between them in 2018. The South American countries mainly exported their agricultural products, while Europe exported industrial and pharmaceutical goods.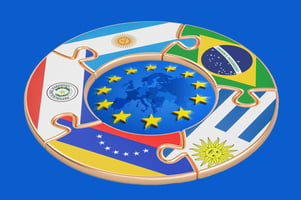 What Does This Agreement Mean in Real Terms?
The agreement covers the industrial and agricultural sectors, public services and procurement contracts, the sanitary and phytosanitary fields and intellectual property.The agreement will eventually eliminate 91% of Mercosur's customs duties on European products, which the Commission estimates at €4 billion. In return, the EU will do away with 92% of the taxes currently applied to South American goods arriving in Europe.
It is a victory for the European automotive industry since Mercosur is committed to opening up its automotive market by gradually eliminating customs duties on cars (currently 35%) and spare parts (now taxed up to 18%). Clothing, currently taxed at 35%, wine (27%) and spirits (20 to 35%) are also among the big European winners for which customs duties will gradually be abolished.
On the South American side, the major advance concerns increased access to the European market for their agricultural production, and in particular beef. The EU will allow in 99,000 tonnes of beef each year at a preferential tax rate of 7.5%. An additional quota of 180,000 tonnes per year has been granted for sugar and another 100,000 tonnes for poultry.
Inevitable Digitization
This agreement was reached in a complicated context for international trade. On the one hand, there is an increase in protectionism, particularly the trade war being waged by economic giants, which is affecting economies around the world. On the other hand, paradoxically, there is a rapprochement between regions agreeing to open up their economies, moving step-by-step towards trade without customs barriers or trade restrictions.
But the gradual removal of customs barriers over several years is just as demanding for companies. To help them, many software solutions providers offer cloud-based solutions that can be integrated into existing ERP systems, for the management of international trade and customs formalities. These solutions simplify the implementation of international trade under economic and free trade agreements while ensuring regulatory compliance at all levels.
The ongoing digitization of import and export processes makes collaboration with trading partners, customs authorities and customs partners more transparent. But what drives investment above all is increased profitability in the implementation of commercial transactions and the exploitation of preferential trade agreements? The digitization of supply chain processes is an opportunity to improve productivity, compliance, and revenue, while reducing import and export costs.
To learn more about digitized and automated trade agreement management, visit our website by clicking here or contact our team at solutions@amberroad.com


This post was published on July 10, 2019 and updated on July 10, 2019.