Amber Road has previously reported extensively on the Comprehensive Economic and
Trade Agreement (CETA). Under negotiation for almost five-and-a-half years, CETA
was approved in a close vote by the Members of the European Parliament (MEPs) on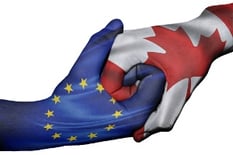 15 February 2017. It was signed by both the European Union and Canadian representatives in October 2016, and first received a positive recommendation from the EU International Trade Committee in the European Parliament (EP) on 24 January 2017.
CETA has the potential to bring massive savings to shippers, with 2015 trade-in-goods between the EU and Canada totaling €63.5 billion ($67 billion). The EU expects this figure to grow by more than 20 percent following implementation of the agreement. It will remove tariffs on most goods and services between the two parties, providing that customs officials from both parties confer preferential origin on goods being traded between the two blocs.
With this plenary vote by the MEPs and the Canadian Parliament's ratification, CETA could be provisionally implemented as early as April. CETA's provisional implementation is due to its status as a mixed agreement, which means it will be implemented only where the EU has full authority, or about 90 percent of the agreement covering 98 percent of all duties. Full implementation must wait for ratification by the EU Member States, as well as several regional parliaments, totaling almost 40 different ratifications. Check out our earlier blog post for more information on the CETA agreement and the signature proceedings in October.
Exceptions to CETA
CETA will not affect duties charged on public services, audiovisual, transport services, and a few agricultural products. There are 143 high-quality European products, referred to as "geographical indications," which are associated with a specific town or region and enjoy a great reputation. Examples include agricultural products such as feta from Greece and Roquefort from France. In addition, only products and services that meet and full respect current EU regulations will be allowed to enter the EU market.
How should organizations plan for CETA?
During the provisional implementation and member state ratification process, shippers must verify the actual import duties, as well as any other taxes and freight costs, which make up the total landed costs, that may apply. Amber Road's planning tools allow you to compare EU and Canada sourcing scenarios to inform your purchasing decision.
CETA does not remove or change health and safety, environment, social, or consumer rights standards in Canada or the EU. Thus, all EU and Canadian import regulations including licenses, permits, inspections, quotas and other restrictions must be understood and maintained. Amber Road's Global Knowledge up-to-date global trade repository allows identifying remaining EU or Canadian import restrictions for products manufactured or exported between the two countries.
Understanding CETA's rules of origins is another important step in any organization's planning process. First, shippers must determine how the products traded may qualify under CETA, which requires comparing the product classifications for the goods being shipped with the associated rules of origin in CETA. Resources such as Amber Road's Global Knowledge® contain the rules of origin, product classifications and duties and taxes for the major preferential trade programs.
Learning about CETA
Amber Road's Global Trade Academy is your premier source for comprehensive training and professional development in the areas of Import / Export regulations, global trade compliance and Free Trade Agreements, including CETA. We offer instructor led courses, online training and trade advisory services designed to assist you in better understanding and taking advantage of Free Trade Agreements such as CETA.
To learn more about CETA, check out CETA passes important vote in European Parliament: provisional application in April 2017.
This post was published on February 17, 2017 and updated on February 17, 2017.