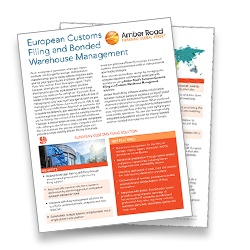 Did you know the opportunity cost of paying your duties and taxes upfront can be as high as 10 percent? Capital tied up in these untimely expenses can end up costing a company millions of dollars each year in lost opportunities. But what if you could defer these costs? Supply chain execution leaders understand the importance of keeping their organization's cash flow flexible and maintain trade compliance. But in order to remain compliant and qualify to defer these duties and taxes, companies must first have complete visibility into their supply chain, including a granular view of what goods are moving in and out of the bonded warehouse, and then be able to share this information with the EU customs agencies.
The easiest way to gain a completely transparent supply chain is to utilize current supply chain technology to help identify opportunities, automate processes, and document the movement of goods along the supply chain. The risks of failing to remain compliant in this increasingly complex global trade arena could be costly, especially with Brexit creating turbulence for bonded inventory. With consequences as extreme as losing your trading privileges, it's essential to maintain visibility and documentation within your supply chain. You can start digitizing your supply chain by downloading our European Customs Filing and Bonded Warehouse Management brochure.
Using a European Customs Filing and Bonded Warehouse Management solution can help build transparency in your supply chain by enabling collaboration between multiple parties and allowing you to leverage a fully-integrated duty-deferral solution for moving bonded and non-bonded inventory into and out of Europe.
Some key benefits include:
Boost free cash flow and reduce overall costs
Maximize exemptions or reduction of duties, taxes and fees with scenario-based smart inventory allocation
Reduced brokerage fees
Automatically creating an electronic customs declaration
The future of the supply chain industry is in a fully integrated single platform to act as your one-stop supply chain shop. Discover a solution that moves you in the right direction by enhancing efficiency, reducing costs, and boosting free cash flow.

This post was published on May 28, 2019 and updated on May 29, 2019.