Earlier this month, I joined representatives from dozens of footwear and apparel brands in Washington, D.C for a pulse-check on market trends and regulatory changes that affect the industry. The conference, hosted by the American Apparel and Footwear Association (AAFA), provides a space every year for industry advocates to meet with people actually in the industry to discuss global trade and supply chain issues. Amber Road has been a sponsor of the event for many years, and this year in particular presented an opportunity for a lively discussion. Fittingly, the theme of the event was "Solutions to Challenging Times."
I say this theme is fitting because, well, anyone in any industry recognizes the unique market and economic forces taking shape right now. Europe's number two economic powerhouse (Britain) is in a messy and uncertain withdrawal from the European Union. China, the world's leading manufacturer—by far—is now entering year two of volatile trade negotiations with the US, the world's most powerful economy—by far. Companies across many industries are being tossed about by these dynamics, but the apparel and footwear industry has several unique challenges in weathering the storms.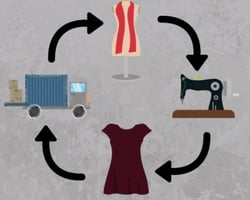 To start with, a big part of the trade volatility between China and the US is the tariffs the US has imposed on Chinese-manufactured goods. From washing machines to solar panels to steel and aluminum, the pain of these tariffs is felt by nearly every global company (and most consumers). But the apparel industry is hit especially hard by the trade uncertainty in US/China relations. That's because the apparel industry accounts for only 6% of imports to the US but bears 40% of the tariff costs, according to Steve Lamar, Executive Vice President of the AAFA. So as the Trump administration promises even higher tariffs on Chinese goods, companies are concerned that slim margins could be erased entirely unless they raise consumer prices. That doesn't seem like a positive scenario for anyone.
The room listened as Lamar's concerns were echoed by Rick Helfenbein, President and CEO of the AAFA. He said there were more retail bankruptcies in 2017 than during the market volatility of 2008. In 2018, 100,000,000 square feet of retail space in the US was lost. As footwear and apparel companies work to navigate these challenges, many are moving some sourcing and production out of China to other up-and-coming countries such as Vietnam. With these potential solutions come other challenges, though. To put this in perspective, China still accounts for 41% of apparel manufacturing and has been a manufacturing leader for decades. As the Chinese economy grows, it will devote more and more of its manufacturing capacity to supplying its own consumers. Companies that need top-quality and a dependable stream of finished goods into their distribution networks may have trouble finding the quality and reliability they need in other countries.
We then heard from Colin Brown, Chief Supply Chain Officer at Under Armor. Brown brought us up from the ground level to a bird's-eye view of the trends impacting the industry. He walked us through how the footwear and apparel supply chain has developed over the last five decades. Whereas in the past, the top driver may have been cost, now the top drivers in the industry (as is the case for other industries too) are things like service, automation, and machine learning. That's because consumers are more connected with supply chains than ever before. They expect to have access to information about how products are sourced, manufactured, and moved around the world. Because of this, companies can't focus anymore on mere product costs. The most innovative companies now look at how each aspect of their supply chains can deliver value to customers.
We heard next from Robert Perez, Deputy Commissioner of US Customs and Border Patrol (CBP). Perez talked broadly about how CBP is working to have as little impact on the footwear and apparel industry as possible while still being effective. CBP has a hard job, responsible for catching not only dangerous or illicit products, but also pathogens, insects, animals, plants, and even foreign soil that might present a threat to US health, agriculture, or wildlife. One of the major threats to the industry right now is counterfeit products because they don't just erode company profits. They're not manufactured to the same safety standards and can contain toxic or flammable substances that pose a serious risk to the public. The apparel industry accounts for 4 million US jobs, and Perez assured us CBP understands the industry's challenges and is working to disrupt the flow of goods as little as possible.
Other presenters spoke broadly of trends and challenges, such as the issue of forced labor in the supply chain and the need for corporate social responsibility. One of the bright spots is that advances in technology now make it possible for companies to create digital prototypes of clothing and footwear. They can model product performance without needing to actually produce a physical sample. This not only cuts down on lead times, but reduces waste in the product development process.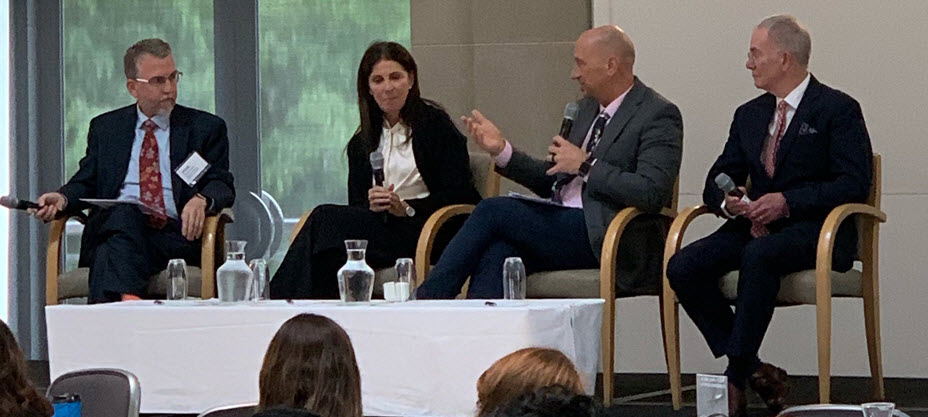 Amber Road's own Product Evangelist, Gary Barraco, joined a panel of industry thought leaders for a deep-dive into the issue of sourcing from China. As companies seek to balance their risk by moving some production out of China, the question arises whether they'll return to China when the trade tensions ease. Barraco made the point that reactively moving production out of China may not actually enable companies to avoid tariff costs if the raw materials they're using still come from China. Companies may have a lot of trouble determining the true origin of their raw materials and finished products without technology solutions for supply chain collaboration and supply chain visibility, such as those offered by Amber Road. The panel agreed that as companies source more from other regions, product quality will go up and at some point, those regions will become competitive with China. Without some other unforeseen disruption to supply chains, it's not likely that apparel companies will shift back to China in large numbers.
It was a packed day in Washington, D.C., with lots of great information. Despite the challenges facing this industry and others, there are bright spots. Great visibility and collaboration tools continue to make the global market easier and easier to navigate. I'm looking forward to visiting the AAFA conference again next year to see how far the industry has come!
This post was published on May 15, 2019 and updated on May 15, 2019.