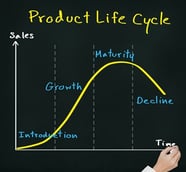 One of the biggest industry buzzwords over the past year has been "fast fashion," as companies race each other to bring goods to market faster and faster. Originating in the fashion sphere, the concept has caught on like wildfire and spread to other industries. Companies are taking a closer look at their internal tools and procedures, seeking areas of the product lifecycle where time can be saved and speed-to-market accelerated.
In many ways, this need for speed can take on too narrow a focus. The importance of cost, quality, and innovation can't be understated. No matter how fast a product moves from concept to consumer, if the cost is too high, the quality is lacking, or if it's not truly innovative, the bottom line will suffer. In order to truly increase speed without compromising on other equally-important factors, a company must become both more efficient and more agile. While there are a few different methods to accomplish this, digitization is the only answer worth exploring.
As the world has rapidly grown more digital over the past two decades, many business processes have moved slowly, failing to keep pace with current-day technology (which seems to only remain current for a few hours at most). While certain aspects of the supply chain have gone digital, many systems don't communicate with each other and require manual effort to transfer data from one step to the next. Consumer demands have increased alongside these technological advances, with higher expectations for companies to offer modern tools for shopping and shipping.
Improved Innovation + Open Collaboration = Success
Companies operating disconnected systems enjoy limited social and/or digital collaboration opportunities. Implementing next-gen Product Lifecycle Management software (PLM) puts design data and images on a shared platform, alleviating communication gaps and encouraging collaboration and real-time feedback on design concepts before they are put into production. Results include higher product success ratios and sell-through by enabling input from designers and suppliers, who can proactively collaborate on innovative ideas.
Typically, companies store product development information in a PDM system, which is not always open to outside parties. With a consolidated platform that integrates tech specs, images and other product details, all of the parties can collaborate. Implementing a next-generation, fully digital PLM improves collaboration while creating space for increased innovation.
Systemic inefficiencies are rooted out and replaced with transparent and agile processes, made possible through a PLM that streamlines each step. With design data and images on a shared platform, companies can alleviate communication gaps and encourage collaboration and real-time feedback on design concepts before they are put into production. The expected results include higher product success ratios and sell-through by enabling input from designers and suppliers who can proactively collaborate on innovative ideas.
Digital PLM Is the Future
Research conducted by the Aberdeen group explores how closed-loop PLM solutions are the best option for companies to stay competitive. Today's global marketplace necessitates improving the process from start to finish, integrating concept and design through manufacturing, shipping and delivery into a single system.
"To win in fashion and retail, time-to-market, cost targets, and leveraging a global supply chain properly are crucial. A PLM solution makes this possible by connecting processes and breaking down these pressures into a palatable form that simplifies the complexity of the process of concept-to-consumer." (Aberdeen)
Companies that implement a PLM solution become the leaders in their industry, not just in speed-to-market, but in other measurable areas, such as improving the bottom line. Research shows that 81% of retailers that have adopted PLM met their development budgets, compared to just 60% of retailers without PLM. Similarly, 82% of retailers using PLM met their lifecycle cost targets, versus 61%. And of course, there is the speed factor. Companies adopting PLM saw a 20% decrease in development time, while companies without PLM saw just a 12% decrease.
The math is pretty simple – PLM adoption is the best step a company can take to stay relevant through lower costs and increased speed-to-market, while staying relevant with enhanced innovation and collaboration.
In most global supply chains, a single product can change hands a dozen times before it lands at the consumer's doorstep. Through digital PLM implementation, this complex process becomes simplified. Companies can bring the data from all parties and all systems together, helping innovative ideas flourish and making fast fashion the norm, rather than the exception, without making compromises. Truly efficient supply chain management and operations are possible with complete supply chain digitization.
Amber Road's eBook, Fast, Faster, Fastest: Learning from the Fast Fashion Groundbreakers, highlights how market leaders in the fast fashion industry are consolidating the product lifecycle to address rapidly changing trends in fashion via:
Streamlining the design cycle

Maintaining end-to-end visibility into all phases of the lifecycle

Consolidating data for collaboration

Leveraging data analytics
These principles apply to many industries outside of apparel, including yours. It takes just a few seconds to download the eBook today for strategies that could transform your supply chain tomorrow.