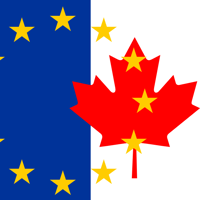 On February 29, 2016, Canada's Minister of International Trade, Chrystia Freeland, and the European Union's Commissioner for Trade, Cecilia Malmström, announced the completion of the legal review of the Comprehensive Economic Trade Agreement (CETA). After many years of negotiations, this European Union (EU) and Canadian treaty could finally be signed at the forthcoming EU-Canada Summit in Brussels on October 27, 2016. The EU considers it to be "a milestone in European trade policy" and "the most ambitious trade agreement that the EU has ever concluded." Those in favor of CETA argue that it will boost trade between the EU and Canada. Critics argue that the agreement is unduly favorable to businesses and may lead to a lowering of regulatory standards. With a provisional application possible in the near future, let's take a closer look at what's at stake and why CETA matters.
How important is trade between the EU and Canada?
In 2015, Canada was the EU's 12th most important trading partner, accounting for 1.8% of the EU's total external trade. The EU was Canada's second most important trading partner, after the U.S., with around 9.5% of Canada's total external trade in goods. The value of bilateral trade in goods between the EU and Canada was about 63 EUR/90 CAD billion in 2015. Machinery, chemicals, and transport equipment dominate the EU's exports of goods to Canada. Pearls, precious metals, and mineral products dominate the imports of goods from Canada. Machinery and chemicals also constitute an important part of the EU's imports from Canada.
Why is CETA relevant to global trade?
If approved, CETA is expected to give exporters across the EU & Canada improved access to one of the world's most developed markets. Canada would gain preferential access to the largest market in the world, a market with over 500 million consumer and a GDP of almost $18 trillion. As such, over 98% of customs duties will be abolished from day one of its application. If signed, the pact will become the biggest bilateral initiative after the 1994 North American Free Trade Agreement (NAFTA) sealed by Canada, Mexico, and the US (CETA is deeper in ambition and broader in scope than NAFTA). But CETA is not only about duty savings, it is, according to Cecilia Malmström and Chrystia Freeland,, "a progressive agreement that will set a new standard for international trade" and "the most forward-looking free trade agreement that Canada or the EU have ever negotiated". Could it serve as a standard bearer for future free trade agreements?
What are the concerns about CETA?
Opponents of CETA argue that the deal will lower the EU's environmental, health, and food safety standards. They remain unconvinced about the reforms to the investment provisions, arguing that these give foreign investors special privileges and may deter governments from legislating in the public interest for fear of litigation. CETA is also seen by some as a way of bringing in elements of the Transatlantic Trade and Investment Partnership (T-TIP), the EU-US proposed FTA deal, through the back door. Recently, Wallonia, a French-speaking area in southern Belgium, voted against CETA for fear of local workers being laid off due to cheaper farming and industrial imports. Belgian law requires the backing of all seven regional, federal, and linguistic entities for the deal to be accepted by the national government.
What are the benefits of CETA?
EU companies, whether big or small, will have new opportunities to grow and expand thanks to CETA since it will facilitate better conditions for doing business in Canada and the EU in comparison to other countries. In Particular, it will provide Canadian businesses with a competitive advantage in the EU market, something that is not familiar to any of their competitors from non-EU G-7 countries, including the United States.
Proponents of CETA say it will:
Cut customs duties for exporters and importers, resulting in savings of around EUR 500, 700 CAD million per year for European and Canadian exporters. Roughly 99% of customs duties and many other obstacles for businesses will be removed.
Cut other costs for EU and Canadian businesses through measures such as the "conformity assessment certificates", which should avoid further tests on goods once certificated.
Allow EU companies to bid for Canadian public contracts and vice versa.
Allow EU firms to sell services in Canada by giving businesses access to key sectors in the Canadian market such as financial services, telecommunications, energy, and maritime transport.
Help protect intellectual property, ensuring that the creative industries are rewarded for their work.
Will CETA only benefit businesses?
CETA will not only benefit companies but also other stakeholders (according to governments):
Consumers will take advantage of lower prices due to the lack of customs duties.
Workers will have new job opportunities in Canada and more staff will be needed due to the new opportunities for businesses.
People's rights at work and the environment will also be more protected because of the commitments made to respect international rules.
How will customs duty reduction and market access be achieved?
Both Canada and the EU would reduce or eliminate customs duties on goods originating in either country, in accordance with the tariff elimination schedules provided in the Annex of the final text. To benefit from this preferential customs duty, goods must be originating from either the EU or Canada under the rules of origin set out in the Protocol on Rules of Origin and Origin Procedures. In CETA, goods have preferential treatment if the importer can prove to customs that these have been wholly obtained (be manufactured from raw materials or components which have been grown or produced in Canada or the EU) or have undergone specifically determined working or processing.
The CETA draft shows the list of the working or processing each product manufactured from non-originating materials or components must undergo in order to obtain originating status. As such, CETA also has published its "list rules" and is based on the structure of the HS. So before being able to determine what processing a specific product must undergo, it is necessary to know its HS classification.
Next Steps
The European Commission has put CETA forward as a "mixed agreement" while maintaining its strict legal view that CETA is an "EU-only" agreement. This means:
CETA must be ratified by each EU Member States' national governments, including some regional and community parliaments.
The European Parliament has to decide whether to give its consent. Only after that would the agreement be applied provisionally.
Before it is finally fully in force, national parliaments and regions will also have to decide whether to approve it.
The agreement may be provisionally implemented after consent from the European Parliament but before ratification by Member States. Only those areas of the agreement falling within EU competence may be provisionally applied (for example, phasing out tariffs on commodities like seafood, new market access to products like European cheese, and changes to open up areas like government procurement). Critics argue that this could cover most of CETA, but there have been recent indications that the controversial investment provisions may be excluded.
How does Amber Road deal with these agreements?
Free trade agreements (FTAs) can be a source of significant cost savings for importers, but many companies forego these benefits because of the effort to manually administer them. Amber Road simplifies and automates the qualification and administration process of free trade agreements so that companies can take advantage of these duty savings opportunities.
Amber Road's solutions help companies identify which products may be eligible for preferential treatment, based on Harmonized Schedule (HS) classification and source country. The user-friendly search wizard simplifies complex HS classifications by providing all of the information necessary to choose the right product classification. Amber Road also automates the process of applying the relevant rules of origin to the bill of materials to determine whether the product qualifies for a FTA.
For more information, please download our white paper, Leveraging Free Trade Agreements to Achieve the Next Level of Savings From Global Sourcing.
This post was published on October 20, 2016 and updated on October 20, 2016.