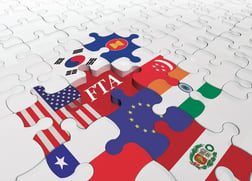 Free trade agreements (FTAs) open up market access between signatory countries by reducing barriers to trade, which makes it easier and more cost effective for U.S. companies to export their products and services to trading partner markets. However, this process isn't always that easy. For many trade compliance professionals, the most complex challenge is understanding and navigating the various "rules of origin." Rules of origin are highly complex and technical rules that describe how exported goods shipped to a country or region may qualify for duty-free or reduced-duty benefits under the applicable trade agreement.
Under some FTAs, companies must certify with a Certificate of Origin completed by the exporter that products are eligible for preferential treatment under the rules of origin. The burden of proving the Certificate of Origin historically has been on the exporter, but the importer is required to exercise reasonable care that the certificate is valid. Furthermore, that roots to another common compliance pitfall: vendor relationships and education. Many companies don't understand how these trade agreements work, so often they will incorrectly sign a certificate when their goods don't even quality for a free trade agreement.To qualify for preferential treatment under a free trade agreement, a product must satisfy a certain rule of origin. Those rules of origin are FTA-and product-specific and generally require a careful analysis of the component makeup, country of origin, and tariff classification of each component that goes into the product at issue.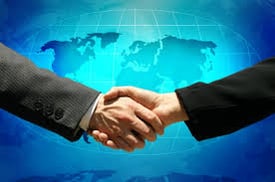 Many trade executives agree that conducting a risk-reward analysis is imperative to deciding whether to claim trade preference at all. That analysis could take into consideration resources, reliability of data, risk, application of one preference over another, and consideration of alternatives. Beyond vendor dependency, many trade executives use cross-functional engagement of key stakeholders to improve classification and reduce duplicate efforts, including requests to vendors. Many also agree that classification skills for their companies' products require special technical skills in addition to customs and trade skills.
For many companies, automation is increasingly replacing time-consuming manual efforts concerning trade management exercises. Global trade management software providers like Amber Road offer import, export, and duty management solutions, which enable customs teams to centralize their product classification process and streamline their supplier solicitation efforts.
Amber Road's global product classification features, for example, help to properly classify products based on the relevant country of import and country of export while also documenting all decision criteria to support future audits, and the configurability of the system allows the customs department to determine the level of user access.
Click here to read the entire Compliance Week article.
To read the full article, please visit Compliance Week.
Discover how automating your company's duty management efforts can prevent many headaches in the future with this SupplyChainBrain report, Software Can Help Soothe Free Trade Headaches. In this report, global trade experts from Amber Road discuss the most pressing issues to consider when looking to reduce duties.

This post was published on October 6, 2016 and updated on October 6, 2016.