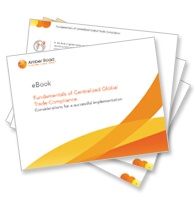 The field of global trade compliance requires a combination of centralized reporting and distributed execution. This allows organizations to benefit from unified policies, control, and measurement while maintaining agility to implement compliance activities and processes that vary greatly across different geographies and product domains.
Some sort of centralization is often a key enabler to success in global trade compliance, but there is no one-size-fits-all way to go about it. What you centralize depends greatly on how your corporate organization is structured, on the resources and processes already in place, and on your specific goals.
With a clear picture of the existing situation, you should then align your approach across your people, processes and technology, and define the metrics that will be used to measure global trade compliance success.
This eBook explains how to centralize and improve global trade compliance in your company by assessing these three key areas:
People: How is your compliance organization structured?
Process: Which compliance processes exist and are needed?
Technology: What compliance data and systems are required in order to support those processes?

Download a complimentary copy of this eBook today to learn how to centralize and automate your trade compliance operations.