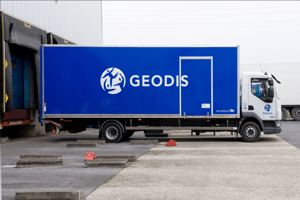 European companies face increasingly complex global trade regulations, especially when ensuring compliance with global sanctions and embargo lists. That's why GEODIS, part of SCNF Logistics, decided that it needed an automated solution to screen its third-party trade partners.
As a leading European transport and logistics provider with a worldwide network, GEODIS is dedicated to maintaining the highest level of trade compliance. Historically, verification of customers, partners and transactions was handled semi-independently in each of GEODIS' five lines of business, with some oversight by the group Customs department. As part of its continual drive to improve standards while increasing efficiency, GEODIS looked for a way to automate and centralize those processes.
Using the Restricted Party Screening module in Amber Road's Export On-Demand solution, GEODIS will be able to transform its screening processes, replacing numerous disparate and partial systems with a single system covering its worldwide operations.
"Solidifying our compliance systems allows GEODIS to grow in a more assured way, as it protects us from risky transactions and enables us to prove to customers that we are compliant with export control regulations," said Bruno Beauvillier, Group Customs and Export Control Director at GEODIS. "We chose Amber Road because of its ability to maintain hundreds of lists, and the presence of a local Amber Road team in France gave us great value in supporting our decision process."
GEODIS chose the Amber Road solution in large part because it provides the most comprehensive, continually updated global coverage of more than 570 restricted party lists from government institutions worldwide. Other factors include the ability to configure the solution to suit GEODIS' organizational structure and priorities, reducing false positives and streamlining validation/rejection decision-making and escalation procedures. Additionally, as each request and its context are automatically archived, the solution can provide valuable assistance with discovery and due diligence processes, enabling GEODIS to document and validate past decisions.
Jim Preuninger, CEO of Amber Road, commented: "We are seeing a growing trend of 3PL companies embracing transformative global trade management solutions that enable them to penetrate new markets and expand existing markets. To this end, we are very pleased to add GEODIS to our roster of France-headquartered customers, an opportunity to leverage our local and international resources to help this industry leader improve its trade compliance processes."
The Amber Road solution is being rolled-out in stages through the different lines of business, beginning with screening of priority transactions and partners, and expanding to include new entities. Within a few weeks of the implementation kick-off in January 2017, key teams were already using the solution.
Read the full press release here.
To take a lighter view on the complexity of trade regulations, turn lemons into lemonade with our new white paper, which dives into some of the unusual import and export controls out there, from spaghetti imports into Nigeria to chewing gum imports into Singapore.