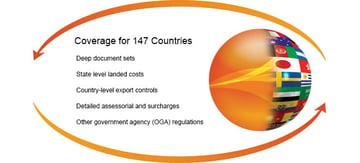 Amber Road maintains the most comprehensive and robust database of global trade content, government trade regulations, and international business rules available today. We cover over 145 countries, roughly 95% of world trade making our trade content and content management process the best in the industry. This is the secret to our success and it's what makes us the world leader in global trade management software solutions and services.
Amber Road is excited to announce that Global Knowledge will be sending regulatory update notices out via our Twitter account @GTMBestPractice. Through Amber Road's Advance Notification system regulatory updates being published by the government agencies around the world will be tweeted on a daily basis. These tweets will consist of updates on regulatory controls, restricted party screening lists, product classification data, landed cost data and trade documentation required for global shipments.
Please come follow our hashtag #GlobalKnowledge on Twitter for the latest in global trade regulations. Follow us @GTMBestPractice.