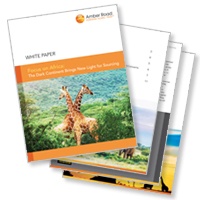 In recent years, the apparel and footwear industry has shifted its global sourcing away from China to other emerging markets due to increased labor, transportation, tariffs, and other supply chain costs.
Africa has emerged as a particularly attractive manufacturing option because of the preferential treatment granted under the Africa Growth and Opportunity Act (AGOA), which provides duty-free access to the U.S. market for eligible countries.
According to a 2012 report from the American Apparel and Footwear Association (AAFA), roughly half of all its members sourced from Africa at that time. However, Africa is considered uncharted territory for many companies seeking to diversify their supplier base. To realize the cost savings of shifting production to this region, manufacturers will need to clear some significant hurdles.
Amber Road's new white paper, Focus on Africa: The Dark Continent Brings New Light for Sourcing, looks at 5 elements executives need to be on the lookout for when sourcing in Africa:
Production facilities

Raw material sources

Labor pool

Logistics and export capabilities

Infrastructure
We have become all too used to thinking of Asia as the prime global sourcing destination. But it is a big world, and suppliers will need even more resources if trade is to double in the next decade, as many experts predict it will.
Download this white paper today to learn more about the future of the largely untapped African global sourcing hub.