International retailers must keep pace with the changing dynamics in global sourcing so they remain agile, automated and aggressive in the marketplace. In fact, speed to market is the top concern for 58% of footwear brands and manufacturers.
This month, Gary Barraco, Director of Global Product Marketing, will speak at the FDRA Footwear Forum in Portland, OR on August 18th. This forum will bring together the industry's top footwear executives and distribution specialists in a one day workshop providing important information and updates on footwear customs, sourcing and compliance, product safety, and other issues.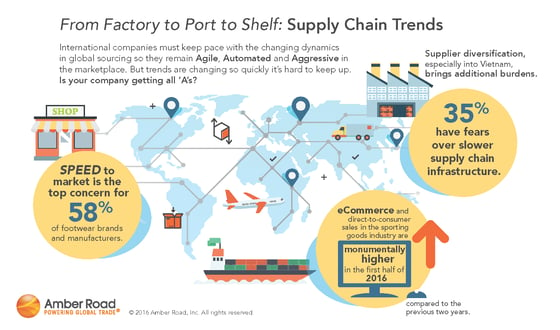 Why have retail sourcing trends become such an area of focus for companies in the past few years? In his panel, "From Factory to Port to Shelf: Supply Chain Trends," Gary will address the 3 biggest sourcing trends:
Speed to market is top of mind for supply chain execs
Supplier diversification will bring greater challenges
The eCommerce imperative puts the consumer in control
Amber Road is excited to sponsor the FDRA Footwear Forum this year. Register for the Forum today to arm yourself and your organization with key trends in global sourcing.
This post was published on August 3, 2016 and updated on August 7, 2017.