The Life Sciences industry faces unique pressures not seen by any other industry, because of the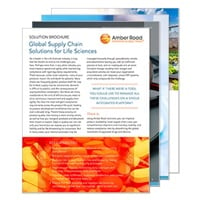 direct impact it has on the life and death of human lives. Hiccups and mistakes in the global trade management of life sciences products can be catastrophic for not only the patients who didn't receive the medicine or device they needed in time, but also for the company that was responsible for producing the product. Gaps in quality and speed-to-market can easily create a bad reputation for your brand and leave you with hefty legal liabilities.
Therefore, it is no surprise that life sciences face substantial regulatory requirements and intense scrutiny over the quality of products. With global supply chains, a limited product shelf life, and unpredictable supply and demand, there seems to be no end in sight to the challenges life science companies must face.
Amber Road offers a single cloud-based software solution that allows you to easily manage all these life science supply chain challenges in one place, on a single platform. It can provide:
A reduction of compliance risk by streamlining the movement of products
Improved product availability and order fulfillment through real-time supply chain visibility
Complete visibility of shipment and inventory
Total landed cost calculations to ensure the best logistics and sourcing decisions
Improved cash flow through overall supply chain improvements
Find out how a single integrated platform can transform your global supply chain by clicking the button below!
This post was published on June 10, 2019 and updated on June 10, 2019.