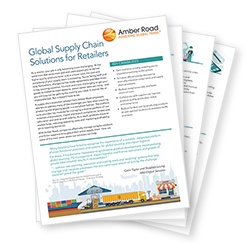 Retailers, let's face it: your job is only becoming more challenging.
While consumers expect you to deliver higher-quality products faster and at lower prices, the cost and complexity of your supply chain is increasing. Between tariff and duty fluctuations, labor hikes in key sourcing countries, and continuing visibility issues, staying afloat in today's retail market requires fast-acting strategy and the support of a comprehensive global trade management solution.
According to a recent report1, "many [retailers] have failed to recognize the importance of a scalable, integrated platform of cross-functional processes and systems for global sourcing and import logistics. For these, it has become impossible to synchronize product development, merchandising, global sourcing, PO management, import logistics and finance operations and growth of private label volumes results in increased pain... Without new planning, execution and visibility tools and 'enabling' systems that help manage and integrate processes into one continuous stream of activity, the challenge could still prove too great."
It often seems like an impossible task. But it doesn't have to be.
A supply chain execution solution from Amber Road empowers retailers to address many of the challenges you face when sourcing, producing and shipping goods in a compliant fashion:
Gain real-time visibility, enabling you to respond proactively to disruptions

Collaborate with suppliers to improve product quality, production status and compliance

Reduce landed cost by producing at cost-optimal locations to minimize tariffs and taxes
"We needed to create reliability in our global supply chain with the ability respond to actual and potential issues and tightly collaborate with our merchants, distribution centers and service providers," shares the Vice President, Global Trade & Transportation of one apparel retailer. "Amber Road's hosted solution saves valuable time and effort, provides meaningful cost reductions, optimizes our shipping options, and improves our customer service."
Explore the solutions that are in reach, and learn how your peers have streamlined their supply chains with Amber Road, in this brochure tailored specifically for the retail market.
1. Integrated Capabilities for Global Sourcing and Import Logistics in the Retail Industry – A Smarter Strategy. By Colin Taylor and Stephen Leung, IBM Global Services
This post was published on June 3, 2019 and updated on June 3, 2019.