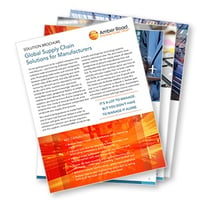 Global manufacturers face unique challenges within their supply chains that are further complicated by a turbulent trade environment, geopolitical factors, and their competitors. In today's market, manufacturers are being pressured from all sides to lower costs and bring products to market faster while delivering goods at the right price, place, and time. This requires executives to pay close attention to their supply chain execution strategies so they can be prepared for any hurdles their supply chain may face. With numerous siloed systems and departments, this can be difficult even for the most experienced executive. It's a lot to manage, but you don't have to manage it alone.
By utilizing current technology that is built specifically for them, manufacturers can lighten the load and create agility within their supply chains. Amber Road's brochure, Global Supply Chain Solutions for Manufacturers, is designed with manufacturers in mind. It explores the challenges that manufacturers face and solutions that they can use to help ease the burden of dated supply chain management strategies.
Download this brochure to learn how:
To automate your import processes to enhance order collaboration and data quality (pg. 2)

To simplify, optimize, or even implement a duty management solution (pg. 3)

NCR leveraged technology and saw a seven-figure benefit (pg. 4 & 5)

To obtain a comprehensive financial view into your design-to-deliver costs (pg. 7)
But this isn't all. The Global Supply Chain Solutions for Manufacturers brochure is 8 pages of information designed and written specifically for manufacturers and includes quotes and case studies from other leaders in the industry. Download the brochure now to find solutions for your greatest supply chain challenges.
This post was published on July 19, 2019 and updated on July 19, 2019.