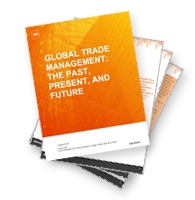 Global Trade Management (GTM) has evolved from a collection of standalone supply chain and enterprise applications into an integrated, robust solution that ties them all together on a common platform. Just as supply chains have changed dramatically in the past decade to adapt to new global sourcing and production trends, companies that seek to stay on the forefront of GTM and supply chain management are embracing advances that give them an edge over the competition. But where should you start? And what does the future hold in store?
Deploying a digital model of the global supply chain provides the opportunity to drive value throughout the entire business.
This Aberdeen Group report explores the concept of an integrated digital supply chain approach, its current status, and a glimpse into the future as new technologies such as blockchain enter the space. Some key findings include:
Best-in-Class companies are over 81% more likely than All Others to adopt a best-of-breed GTM solution
Best-in-Class companies are 75% more likely to have BI and analytics tools in place as part of a digital platform
Best-in-Class companies are over six times more likely to be highly automated across their organization
37% of all companies have funded blockchain initiatives and 29% are actively pursuing the use of blockchain
Understanding how and where technology innovation is headed at least provides some direction of what companies must prepare for. But regardless of where the future takes us, having a digital GTM platform is a cornerstone for capitalizing on new technology.
Learn how you can take advantage of all the benefits of going digital to become more agile and improve your existing global supply chain management functions today!