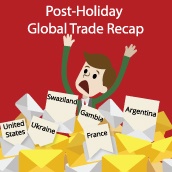 The elongated holiday break gave most people a chance to relax, but for most, that means you have some catching-up to do. Here is a quick recap of some top global trade news stories that emerged in the final weeks of 2017 while you were away from the small screen...
Coal for Ukraine and Gifts for Argentina, Gambia, and Switzerland
The industry was hoping that some important work would be finished up before the year's end, especially with certain programs set to expire on December 31st. Before departing Washington on December 22nd, President Trump issued a presidential proclamation regarding Generalized System of Preferences (GSP) eligible countries.
Trump announced he will suspend Ukraine's eligibility for GSP benefits because the nation isn't "providing adequate and effective protection of intellectual property rights." With the same pen stroke, he restored Argentina's eligibility for GSP benefits, which had been suspended in 2012 "because it had not acted in good faith in enforcing arbitral awards in favor of United States citizens or a corporation, partnership, or association that is 50 percent or more beneficially owned by United States citizen." However, the GSP program expired on December 31st until the program is renewed by Congress, costing companies that import from GSP countries about $75 million in duties per month.
In the same proclamation, the President reinstated Gambia and Swaziland's eligibility as beneficiaries under the African Growth and Opportunity Act (AGOA). This trade program provides sub-Saharan countries duty-free access to the United States on condition they meet certain statutory eligibility requirements, including eliminating barriers to U.S. trade and investment and making progress toward political pluralism. Gambia and Swaziland were previously removed for human rights violations, yet Rwanda, Tanzania and Uganda are still left out on condition they meet certain statutory eligibility requirements, including eliminating barriers to US trade and investment and making progress toward political pluralism. The USTR has promised to review their status out-of-cycle.
A Game of Chess with France

After feeling the "cold shoulder" from the Trump administration's changes, long-time ally France isn't relying on past trade relations with the United States to sustain its economy. France has set meetings with China and Russia to act as a counterweight to increasingly uncertain trade relations with the US and the BREXIT-ing UK. Expressing concern in a letter to US Treasury Secretary Steven Mnuchin, France's Economy and Finance Minister Bruno Le Maire pointed to the new corporate tax laws that provide US companies with biased tax advantages and discourage them from investing in Europe.


The Cold Korean Peninsula Heats Up

The US and South Korea are sitting down this week to discuss the future of its current trade agreement. The US administration is demanding more from the South Koreans to balance the nearly $28 billion trade deficit. At the same time, North Korea remains under heavy sanctions from multiple countries, yet is working toward an agreement to participate in the Olympics.


Rejection on the homefront

The President's nominee to head the Consumer Product Safety Commission (CPSC), Acting Chairwoman Ann Marie Buerkle, was among several agency nominations the Senate sent back to the President last week. Trump nominated Buerkle for the position back in July, but industry watchdogs and some legislators oppose her placement. Buerkle doesn't support a proposed new CPSC standard that would limit CO emissions from all newly-manufactured portable generators, and instead wants to replace it with a "voluntary" rule. Since her nomination was rejected, Trump must now either re-nominate her or choose someone else.


While it may seem that all the top global trade content news revolves around the US, the EU and other nations continue to work toward a stronger global economy amidst protectionism and change. The global outlook is positive even though China's factories are producing less, a result of reduced demand from international buyers and backlash from environmentalists about factory pollution output. Most economies are hoping for a positive outlook after a year of major retail sales (mostly online) and growth.

To learn more about what to expect from global trade in the new year, join us on January 11th on our free webinar as we discuss The 6 Global Supply Chain Trends to Watch in 2018.
This post was published on January 4, 2018 and updated on January 4, 2018.