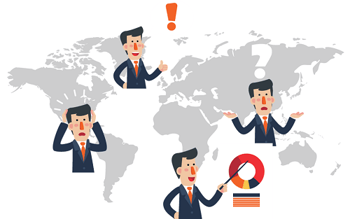 Across the world, sourcing, supply chain, and global trade executives are under intense pressure to streamline their processes in order to stay ahead of the competition and keep their companies in the black. But let's face it — it's not easy in this environment: light-speed business, stringent compliance regulations, and consumer demand for more agility than a squirrel on a bird feeder.

Studies show the top organizations that have successfully aligned with their key suppliers have reduced risk factors and improved innovation, quality, reliability, and costs/price reductions. Both sides of the business can achieve greater value, which is difficult to achieve if operating independently.
Amber Road customer Dick's Sporting Goods has adopted new technology to automate and simplify the SRM process, making it easy for sourcing executives to make quick, informed decisions about their suppliers.
Delegates at the Product Innovation Apparel Conference in New York City later this month will be able to attend my Think Tank session with Ryan Miller, Director of Business System and Process Implementation at Dick's Sporting Goods, where we will discuss:
We'll learn how a supplier relationship management solution can build strong links in your supply chain through collaboration and visibility. The Think Tank will take place on Tuesday, June 28, at 8:30 AM.
If you aren't able to attend the Product Innovation Apparel Conference, read about the importance of connecting the dots in your supply chain, or check out our white paper on the collaborative product design benefits of an SRM program by clicking below!