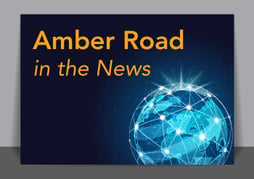 Extra! Extra! Read all about it! Amber Road talks about managing supply chain costs, shipping perishable goods, global trade rules and regulatory compliance solutions, and moving the workload to the vendor-level in this month's press coverage.
Amber Road's industry leaders have a lot to say, and this month features pieces written by Gary Barraco (Director, Global Product Marketing) and Andrew Cheung (Vice President of Implementation). This issue also features an exciting press release for Amber Road's export compliance solution targeted at universities & research institutions. Check it out!


There's Money in the Material: Managing the Cost of Material Commitment, Sourcing Journal written by Gary Barraco:
Innovative apparel and footwear brands want to distinguish their products by combining fashionable and functional materials, yet they need to fulfill customer demand in a faster-than-ever retail environment where cost is important too. To be a leader in customer service and maintain the competitive edge, companies need access to the raw material order processes and availability to ensure downstream activities will meet each gated milestone.
Going Bananas to Keep Perishable Goods on the Move, Food Dive written by Gary Barraco:
When you're eating your next banana smoothie or slice of banana bread, imagine the complex journey this ubiquitous fruit and other fast-moving consumer goods go through to get into grocery bags and recipes.
Tit-for-Tat Tariffs Call For Closer Calculations, Supply Chain Dive written by Gary Barraco:
Global supply chains are susceptible to shifts in our ever-changing trade scenario. This means companies must be agile enough to react to these and other changes, while adapting their supply chains to avert delays.
Amber Road Export Compliance Solutions for Universities, Digital Journal:
Amber Road announces a focused solution of its export compliance software specifically designed to help universities and research institutions manage compliance programs.
Put the Factory to Work, Inbound Logistics written by Andrew Cheung:
Amber Road takes a look at how companies can leverage vendor shipment booking technology to shift the work to the factory and provide better visibility at the same time.
To catch up on Amber Road's press coverage, check out our Press Room. Until then, stay tuned for our June coverage!
Amber Road's Export On-Demand University & Research Edition is specifically designed to help colleges or universities with a scientific research program, foreign visiting researchers, foreign students, international research collaborations and overseas campuses manage their export and deemed export compliance programs, license requirements and product classification. If you'd like to learn more, download the solution brochure.