Change is a constant when your sourcing practices have to ride the waves of global trade policy. In the face of rising tariff costs, consumer expectations for sustainability, environmental challenges, and international politics, many shippers are looking to change and diversify their global sourcing practices.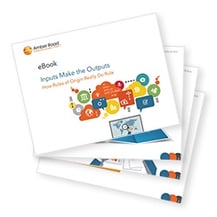 Parts and material sourcing is what determines the success of a final product, therefore it is incredibly important that any changes made to sourcing practices keep quality top of mind. Of course, that's not all there is to consider when diversifying your sources. It's easy to overlook something very important that can have a profound effect on the company's bottom line: inputs and their origin.
The new ebook from Amber Road, now part of E2open, Inputs Make the Outputs: How Rules of Origin Really Do Rule, explains:
Why inputs and their origin matters

How to determine the preferential origin for your inputs

What Rules of Origin are and how to successfully apply them

The benefits of a digital Rule of Origin Query Tool
Tariff and duty rates are affected by the origin of your inputs, not just where they were
produced or exported from. The Rules of Origin (ROO) are criteria used to determine the country of origin of a product, as well as to dictate compliance requirements for this particular product or material. Depending on the country of origin, the ROOs can be very specific and complex and can have a dramatic effect on the ultimate cost of manufacturing. The right digital solution can help find favorable free trade agreements and identify other cost-saving measures when making changes to sourcing practices.
Download this ebook to learn how to make changes to your sourcing practices, consider the overlooked factors, and reduce costs, time, and errors.
This post was published on July 23, 2019 and updated on July 23, 2019.