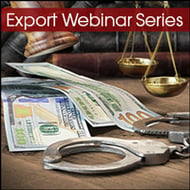 Let's face it, export compliance is tedious and complicated work. Government rules and regulations are constantly changing and trying to tackle this problem manually can be an overwhelming nightmare. Do not let export compliance control your valuable time. Take back your work day with processes and technologies designed to maximize your efficiencies and reduce export compliance risks.
Take your lunch break with Amber Road and join us for our five-part Export Webinar Series to learn the steps to streamlining and automating export compliance, including restricted party screening, license determination, and document management. Do not hesitate and save your spot today for any of these essential five webinars!
Understanding the Key Elements of Exporting: 2:00pm EDT on April 11
Listeners will learn how to ensure ongoing compliance, determine and manage classification codes for multiple countries, and maintain a comprehensive audit trail.
Streamlining Exports: 2:00pm EDT on April 19
Whether you're a start-up or mature business, a new export or old, this webinar will break down the issues you face and how to gain the confidence you need to become an international success.
The Cost of Non-Compliance: 2:00pm EDT on April 26
This webinar will break down the typical justifications companies use to avoid implementing an automated trade compliance program - and the repercussions they often face.
Building the Business Case for Export Compliance: 2:00pm EDT on May 3
In this webinar, learn to evaluate and leverage the right technology in your favor and tackle the ever changing landscape that your organization faces.
Best Practices for Automating RPS: 2:00pm EDT on May 17
If you already have a restricted party screening solution, learn how to tell if your current solution is actually putting you at risk.
Can't make any of the webinars in the coming weeks? Check back for future dates and stay compliant and download our eBook, Getting Started in Exporting.
This post was published on March 22, 2017 and updated on April 5, 2017.