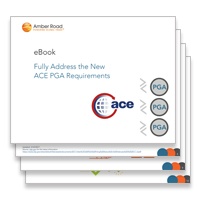 US Customs and Border Protection (CBP) is leveraging the Automated Commercial Environment (ACE) system to implement a Single Window with Partner Government Agencies (PGAs). As a result, importers must now prepare all data elements prior to the arrival of goods. Considering 10-75 data points must be declared at the time of admission, importers must find a way to ensure that the correct information is being submitted in a timely manner.
Amber Road's new eBook, Fully Address the New ACE PGA Requirements, takes a closer look at the Single Window initiative, as well as:
The required elements of a perfect PGA program

Considerations for successfully meeting the new requirements

How global trade management solutions can help ensure an uninterrupted Customs admission process
With the greater percentage of companies uncomfortable with the new PGA data requirements, the fact that the PGAs are using ACE as a way to expand the pre-entry data they require from importers must be frustrating to many. Therefore, it is important to learn about the various considerations and steps for securing requried PGA data to ensure current processes meet PGA requirements in a repeatable and efficient manner.

Global Trade Management (GTM) solutions with expertise in PGA data requirements that work closely with the CBP can also help your organization realize these benefits. With connected, accurate data submission, your global supply chain can attain fewer shipment delays, lower costs, and improved regulatory compliance. Download this eBook to learn more!

This post was published on May 24, 2017 and updated on May 24, 2017.