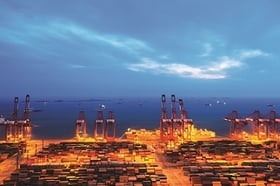 It is no secret that conducting trade in China can be rather difficult and complex, but that might all change with China's brand new standardized Customs system. This automated system was created by China's General Administration of Customs (GAC) in order to simplify trade by unifying Customs and standardizing nationwide enforcement of declaration issues, classification and valuation. The pilot program began in Shanghai in June, with a goal of national implementation by 2020.
The previous China Customs model was a district driven approach, with five Customs regions operating separately. This caused many issues including competition between regions, disagreement over the classification and valuation of goods, and port shopping, where companies look for the most favorable Customs region to bring their goods in or out.
Under the new system, clearance will be faster and equal across all regions, and it will end disagreements between regions over issues such as the classification of goods. Whereas the previous model focused on tax out of clearance, under the new model Customs will release the goods at the port after a safety and security risk analysis, and conduct tax collection and follow up supervision after clearance. In addition, companies will be able to submit declarations to any Customs district regardless of port of entry for imports or departure for exports.
While there are many benefits associated with this new system, there are still some challenges companies will need to overcome, including increased Customs declaration complexity, both before and after submission. Customs will be putting more emphasis on post-clearance audits, requiring companies to further enhance their compliance capabilities to respond to these inquiries. Furthermore, the pilot program grants preferential trade facilitation measures to companies with demonstrated compliance records, making it crucial that organizations have documented and standardized compliance processes.
Luckily, a China Trade Management (CTM) solution can help you overcome these challenges and gain preferential trade status. A CTM solution automatically generates declarations based on Customs and company defined rules, and also allows you to manage certificates, estimate taxes, verify declaration returns, and conduct post-clearance audit.
For more information on the new standardized Customs system, check out these Bloomberg and Global Trade Magazine articles.
This post was published on August 11, 2016 and updated on August 11, 2016.