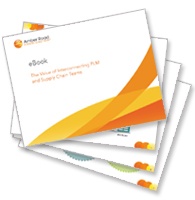 Despite the increasing number of unexpected supply chain vulnerabilities and disruptions, many companies are failing to address these challenges. With many brand organizations and retailers relying on outsourced manufacturing, these complexities have become more evident, and in many cases, hinder companies' ability to build quality products quickly and deliver them to their consumer base efficiently. So how do you overcome these complexities? The answer lies in interconnecting product lifecycle management (PLM) and supply chain teams.
Global companies have realized the importance of connecting product information with manufacturing and supply chain processes not only to overcome supply chain challenges, but also to unlock additional value and achieve benefits including:
More efficient collaboration among internal and external groups
Improved decision making related to product design, production and customer satisfaction
Decreased risk and overhead while still delivering on customer expectations
How to Justify the Investment
Despite the proven benefits, many companies find it difficult to justify the investment needed to connect this information. As this relates to software, more specifically, product lifecycle management (PLM) and supply chain software, determining value is sometimes difficult — even more so when money is tight due to tough economic conditions. However, the answer can be found by looking across the entire product lifecycle to better understand how improved connectivity between the disparate groups can result in improved individual task performance and greater value. This greater value often translates into improved speed to market, lower production costs and reduced waste.
What to Look for in a Solution
Supply chain collaboration solutions standardize and share information across the enterprise, along with key trading partners. These solutions enable dramatic changes by improving collaboration among internal and external groups, standardizing processes and documents, and acting as a central knowledge base to store and share all related data that provides visibility into the supply chain.
While supply chain collaboration may sound fairly simple, it is no easy task. Few conventional product data management (PDM) / product lifecycle management (PLM) solutions have the ability to cover the broad scope of the full product lifecycle by spanning supply chain execution (SCE), global trade management and logistics tasks. Each of these functional areas often utilize individual software systems that address their specific needs and supporting business processes. However, a single system that connects the brand or retailer's "stand-alone" group, and also reigns in its vendors and trading partners, shows the value proposition easily by lowering production costs and improving supply chain performance.
Amber Road's Supply Chain Collaboration solutions engage the entire value chain by creating a direct, efficient connection between product development, procurement and supplier throughout the entire product lifecycle. This enables companies to accelerate their time to marketing while improving top and bottom lines.
To learn more about how you can interconnect PLM and supply chain teams, check out our brand new eBook!
This post was published on October 13, 2016 and updated on August 8, 2017.