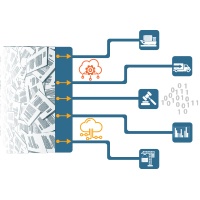 The dynamic nature of global trade has begun to make it impossible for organizations of any size to operate manually. The global trade industry is becoming increasingly aware of the fact that supply chain solutions need to consistently evolve in order to keep pace with ever-changing global trade policies and regulations. With so much change both in the supply chain and within our regulatory environment, is there a "magic pill"?
"Digitization" has become one of the buzzwords circulating around the supply chain industry as businesses look to increase productivity, cut cost, and stay ahead of the competition. Amber Road's Vice President of Solutions Consulting and Product Marketing, Ty Bordner, spoke with Inbound Logistics about how converting your real-world supply chain into a digital supply chain can prepare your business today for tomorrow.
Discover the four key methods of transformation through digitizing, and the resulting supply chain visibility benefits with our podcast, How Would Your Company's Supply Chain benefit From Digitization? Listen now!

This post was published on November 13, 2017 and updated on June 5, 2018.