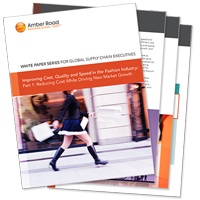 Fashion is a tricky business, and gaining cost, quality and speed advantages can be difficult to do in an already complicated and competitive market. There are seasonal changes where products must be designed, developed, sourced, tested and imported and exported in a limited amount of time. Of course, this increased pressure to move quicker in getting products to market can make it more difficult to maintain a quality. If this wasn't enough to deal with, there are also the chaos customers create by not following trends, often making demand unpredictable. The list of challenges goes on and on. However, amid these ongoing struggles, and fluctuations in the global economy over the last few years, the footwear and apparel industry still has a chance to successfully adapt and thrive.
By focusing on the three main fashion industry goals, rather than the challenges they must overcome, CEOs can easily cultivate advantages over their competitors. In this three-part white paper series, we take a look at each of these competitive advantages - speed, cost and quality - from the perspectives of global supply chain, logistics and trade compliance executives.
The first of these is covered in Amber Road's white paper, Improving Cost, Quality & Speed in the Fashion Industry: Reducing Cost While Driving New Growth. It covers topics such as:
Common supply chain execution issues for fashion brands
How to build a cost advantage and drive growth in new markets
A better strategy for cost reduction in global fashion supply chains
Three key strategies for CEOs to be successful in global trade management
Tackle the first fashion industry hurdle – cost – with this white paper and get insight into how to gain an advantage over your competitors. You can download the white paper by clicking the image below!
This post was published on May 22, 2019 and updated on May 22, 2019.