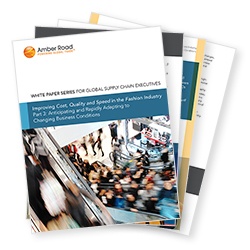 The only thing that is certain in the fashion industry, is change itself. Although the volatility and challenges plaguing the footwear and apparel industry may make the outlook look rather bleak, CEO's that are able to embrace this as a catalyst for change will come out stronger and more resilient longer-term.
Being able to be supple enough to adapt to this market instability requires an extra emphasis on preparedness, supply chain speed and global trade management. In Part 3 of this white paper series, Improving Cost, Quality and Speed in the Fashion Industry: Anticipating and Rapidly Adapting to Changing Business Conditions, we delve into how to build a speed advantage that provides a new level of agility for fashion companies. Some of the topics covered include:
Most common issues for supply chain execution that result from rapidly changing conditions
How to quickly adapt and change to market conditions to gain a speed advantage
How you can enhance your supply chain strategy through global trade management
This three-part white paper series sets its focus on both the challenges and competitive advantages sought after by all fashion companies, which include cost, quality and speed. Download Part 3 to find out how to develop your speed advantage!
This post was published on July 29, 2019 and updated on July 29, 2019.